The past several weeks found me very busy preparing for the Toastmasters District 59 International Speech Contest. The final was held in Poznań, Poland and I was one of the eleven finalists.
It was a terrific event with great educational sessions, exciting contests and terrific people. It is wonderful to come together with 300+ individuals who share a passion for excellence in public speaking and presentation skills. And it was great to be back in Poznań, a wonderful city to visit if you get the chance.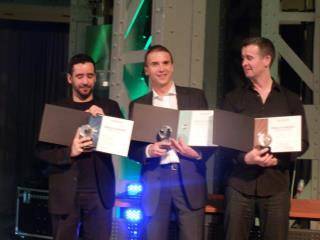 I finished 2nd in the International Speech Contest. Congratulations to my good friends, Jorge Crespo (1st) and Mel Kelly (3rd) as well as the other competitors for their great speeches. Jorge will represent our District at the World Championships in Orlando, Florida. Jorge has a dynamite speech and will be polishing it with the help of a number of experienced speakers. And, all of Continental Europe is solidly behind him. Watch out, Orlando!
This is the third time I have competed in the District International Speech Contest and the second time I have finished second. Several people were upset for me but they needn't have been. I was (and am) very happy. It was a fair result and that's what you want. I saw Jorge's and Mel's speeches and think that if the three of us had been shuffled in any order it would have been fair. And, although I didn't see most of the other speeches, from what heard, I suspect that if you had shuffled one or more of the other competitors onto the podium, it would also have been fair. That's the nature of speech contests. Fortunately, I took my own advice and followed the "Number One Rule for Speech Contests".
For me, however, the highlight of the week was Mark Hunter. The 2009 World Champion of Public Speaking has been in a wheel chair since an accident in his early 20's. Yet his disability has not prevented him from living an amazingly rich and full life. His warmth, his sense of humour, his passion and his determination to squeeze every drop of juice out of life despite his disability made a deep impression on me.
I was privileged to have been able to share the stage with Mark and seven other terrific speakers at the Spectacular Speaking event the day before the Toastmasters Conference. I also shared several meals, some wonderful conversations and a few beers with him. Although I learned a lot about public speaking from Mark, I learned an awful lot more about what it means to live with integrity.
One of the addresses that Mark gave at the Toastmasters Conference was called The Mark of a Champion, which I have shamelessly stolen as the title for this post. In it, he shared a number of insights into what makes a winning speech. But there was one thing in particular that impressed me the most.
Mark's 2009 Championship speech was entitled A Sink Full of Green Tomatoes. It was a masterful performance. I saw him give the speech a couple of times last week and then analyze it. The thing is, Mark has continued to work on the speech and perfect it even after winning the Championship. I asked him if he thought it was noticeably better than in 2009. "Oh, John," he said in his distinctive Australian accent, "it's much better, Mate. It's like chalk and cheese."
Here's the thing: If a World Champion of Public Speaking feels that he can improve his own World Championship Speech, that should be a signal to all of us that the journey towards great public speaking never ends. We can all improve and we should endeavour to do so. Yes, it takes time and effort, but the results are tangible.
A relentless desire to improve and a commitment to take the necessary steps to do so. That's the mark of a champion. From a Champion named Mark Hunter.