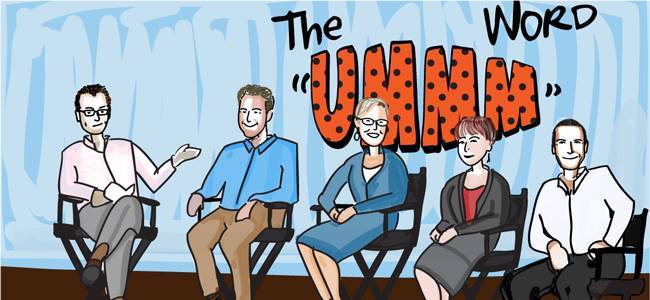 My fellow professional speaker, Gavin McMahon, is a founding partner at fassforward consulting group. He also writes a great blog on public speaking and presentations: Make a Powerful Point.
Gavin recently turned his attention on filler words. He assembled a virtual panel of experts and asked the following question: "How do you get rid of the 'ummm' word?" On the panel were Peter Watts, Lisa Braithewaite, Michelle Mazur and me.
Interestingly, even though everyone on the panel answered the question independently, there is a common theme in the answers: Reducing filler words when we speak is a worthy objective; however, we should not become fixated on them. There are more important things such as content and connection with the audience.
If a filler words sneaks in every now and then, it is not the end of the world. Your audience will likely not even notice. If, on the other hand, you say "ah" or "um" every few words, it will be distracting.
The best way in which to reduce filler words is to become comfortable with pauses. I have written a detailed post about why pauses are important and when and how they should be used.
[Update: Unfortunately, as of January 2020, it appears that the post is no longer on line.]