My daughter Alex had been raving about Breaking Bad for months. "Dad, you have to watch this show; it's the best series I've ever seen," she kept telling me.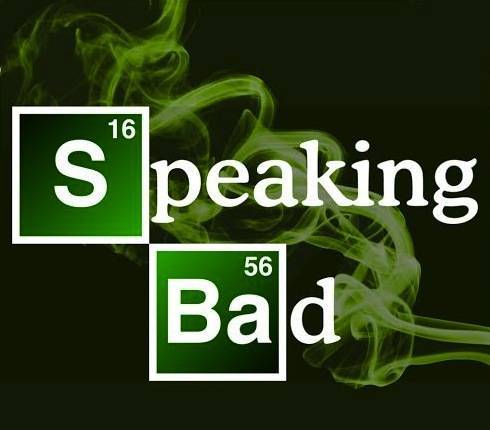 These days, I don't watch much television—one evening a week at most—and I'm not keen on getting invested in a series. But when Alex came home for Christmas, she asked me to watch the first couple of episodes with her and I was hooked. Breaking Bad has become one of my favourite series of all time. The plot, the character development, the wry humour and the sheer number of "Oh shit!" moments are incredible.
As I am always looking for different ways to come up with lessons on public speaking and presentations, I thought, why not have a little fun with Breaking Bad?
Caveat: This post would run far too long if I had to explain every situation below in detail, so I will assume that readers are familiar with the show and the characters.
Warning: If you have not seen the show and are planning to watch, this post contains spoilers. Proceed with caution!
With all the above in mind, here are eight "Speaking Bad" tips from Breaking Bad.
No. 1 – Your Introduction
If someone is going to introduce you, write out the introduction for him. That way, you can have them focus on aspects of your background that you would like to highlight for your audience. But don't stop there. Meet with the person who will introduce you. Make sure that everything is clear and that he can pronounce any complicated or unusual words properly. Most of all, make sure that he can say your name properly.
No. 2 – The Power Pause
When you take the stage, don't feel that you have to speak right away. Instead, pause and let the audience settle. Make eye contact and let the silence linger a bit. Doing so will give your opening words more of an impact. As James Humes says in Speak like Churchill, Stand like Lincoln, "Stand, stare and command your audience, and they will bend their ears to listen."
No. 3 – Do something unexpected
Being unexpected is a great way to make your message stick. Whether it's a story with a twist at the end or an unusual demonstration, people will be more likely to remember your presentation if it contains something they didn't expect.
No. 4 – Energy and Enthusiasm
When your energy is up, the audience's energy is up. Put a little emotion into your talk.
No. 5 – Ask for help if you need it
Sometimes, despite our best efforts to prepare, things go wrong. The computer dies, the microphone doesn't work, you forget a key piece of logistical equipment. If you can't fix it quickly by yourself, don't try to be a hero. Ask for help.

No. 6 – Always remain calm
When things go wrong—and if you do enough speaking, there will be times when they do—you have to maintain your composure. After all, you are the one on stage.
No. 7 – Ask for fair compensation
Giving a speech or presentation, and giving it well, takes a lot of effort. The audience sees you on stage but they never see the preparation that went into making it a good speech. You should be compensated fairly. Of course, there are times when speaking for free is appropriate: business development; a worthy cause; seeking experience; etc. However, if you are going to get paid, ask a fair amount. Just don't go overboard.
No. 8 – Get feedback
Seek feedback from those who saw your presentation so that you can learn and improve.