Time to Shine is a podcast hosted by Oscar Santolalla, who speaks to the world from Helsinki, Finland. As of the writing of this post, Oscar has interviewed over 50 successful public speakers who share their experiences and insights into the world of public speaking.
Guests recount personal stories, share best practices and recommend books and other resources.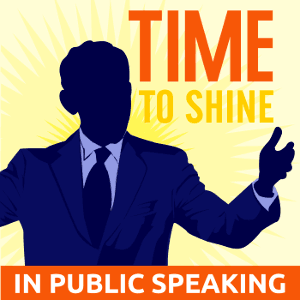 I recently had the pleasure of speaking to Oscar on his podcast. It was a wide-ranging conversation that covered the following topics, among others:

Why the opening of a speech is important and a story about how I worked with a client to help her come up with a powerful opening for an important speech.
Four rhetorical devices that anyone can use to make their speech or presentation more persuasive.
Rhetoric – The Public Speaking Game™. This is the board game that Florian Mueck and I created to help people improve their public speaking skills and have fun at the same time. People around the world are having fun playing RHETORIC in businesses, at Agile conferences, in schools and at home.
Some inspiring quotations and recommended books.
A simple, but effective exercise you can do at home to improve your stage presence.
You can listen to my interview by clicking this link.
Time to Shine is a great podcast with a growing audience. If you would like to listen to other podcasts in the series, visit this page and scroll through the guests to find someone whose topics interest you. If you would like to subscribe, you can do so for free on iTunes or Android.