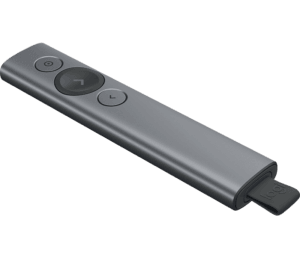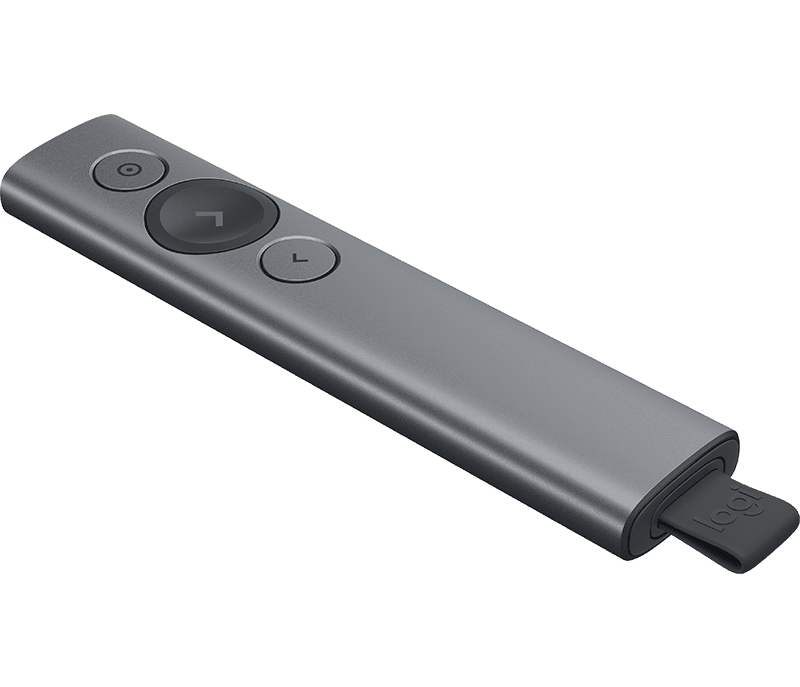 Slides are a staple of most presentations. And if you use slides, you should use a good remote to go through them. I recommend the Logitech Spotlight. I have been using the Spotlight for the past couple of months and am now able to share my opinion with you. There's a lot to like and a few bumps that I'd like to see ironed out.
If you are not familiar with the Spotlight, I recommend that you first have a look at the Spotlight page Logitech's website to get a sense of how it works. And, at the end of this post, you will find three video reviews of the Spotlight so that you can see what others are saying.
Now, on to my review.
PROS
1. No more batteries
You charge the Spotlight by plugging it into your computer. The charging power is terrific. If the Spotlight is completely dead, a 60-second charge will give you three hours of use. And, if you fully charge it, Logitech says that the charge will last three months. After almost two months, my Spotlight still shows around 75% charged. This is great for the environment and it will save you the money that you have to spend on new batteries. Just be sure to have the charging cable handy in case you need it.
2. No On/Off button
When you connect the Spotlight to the computer, simply push anyone of the three buttons. The remote vibrates and is on. There is no risk of accidentally turning it off during your presentation. And, it is one less button to deal with (see No. 5 below).
3. Dual connectivity
Most remotes are connected to the computer by a USB dongle. And they work perfectly fine … unless you lose the dongle. That is precisely what happened to me with my last remote, the Logitech R400. If you lose the dongle, you're out of luck because each remote has a unique dongle. With the Spotlight, you have a back-up plan because you can also pair it to your computer via Bluetooth. So if you lose the dongle, all is not lost.
4. Long operating range
Logitech claims that the Spotlight will work up to 30 metres from your computer. In fact, I think the range is even better. I had a speaking engagement in a building that has an enormous main hall. So I set up my computer and paced off 40 metres and the Spotlight worked like a charm. You should have no issues even on a large stage.
5. Three simple, intuitive buttons
In the past, I have used a Targus AMP05US and, as mentioned above, a Logitech R400. They have, respectively, eight and six buttons. The Spotlight has just three: a pointer; a button to advance the slides; and a button to go back. Cleverly, Logitech has placed the Advance button in the middle and made it larger and slightly depressed. This is the button that you will use the most and it is easy to find it with your thumb. No need to look at the device. Click on the image below to see a larger image of the Spotlight.
6. Programmable secondary functions
One of the neat things about the Spotlight is that you download software to your computer. Then, you can program secondary functions for the buttons. These functions include the following: blank screen; volume control; scrolling; fast forward; and custom keystroke, which allows you to programme preset keystrokes on your computer as a secondary function.
So, you can set up your Spotlight the way you want. To activate the secondary function, you hold the button down instead of clicking it. I have set the secondary functions on my Spotlight as follows: blank screen on the Advance button; and volume control on the Back button.
7. Blank screen works on Keynote
Keynote is my slide presentation software of choice. I started using it years ago because I found it sleeker than PowerPoint and also because some things such as embedding videos were just so much easier to do on Keynote. PowerPoint has made great strides in recent years, but for now, I'm sticking with Keynote. However, one of the drawbacks of Keynote is that, when using a remote, the blank screen button does not work. It's a long story with a long, technical workaround that you can read if you are interested. Suffice it to say that it was a royal pain. That pain is now gone as the blank screen function works perfectly with Spotlight.
8. Volume control
If you have ever used music or videos in a training or presentation, you know how tricky sound can be. The sound on one file might be low, so you raise the volume of your computer. However, the sound of the next video might be high and if you have not lowered the volume on your computer, you might blast the room. I know, I've done it before! With volume control, you can raise or lower the volume simply by pressing the relevant button and lifting or lowering your arm like a conductor. It is a pleasure to be able to control the volume without having to walk back to the computer.
9. Pointer
The Spotlight pointer is unique. Gone is the little red or green laser dot. That is a good thing because, besides being annoying, the laser does not work on a TV screen and more and more presentations are being given on high definition TV screens. Instead, there is now a "spotlight", a circle that you can set to be large or small. Press and hold the pointer and the screen becomes opaque (and you can adjust that too) while the spotlight remains lit. You can also set secondary pointer functions such as a magnifying glass and a coloured circle. See the Logitech website and the videos below.
10. Works with other software
The Spotlight can be used with other software such as Word or Excel. You can scroll through a document, magnifying things, use the "spotlight" and even activate a mouse with which to click and open links.
CONS
1. Price
he Spotlight is not cheap. I have seen it offered at different prices on different sites. On the Logitech Switzerland site, it sells for CHF 149 (about USD 150 or EUR 127 at the time of writing). That's 2.5 times the cost of the R400 which retails for CHF 60 on Logitech's site.
2. Charger cord
I have only had to charge my Logitech Spotlight once, so far. And, given the long battery life, in theory I should only have to charge it four or five times a year. One end of the charging cable plugs into the USB port on your computer. The other end plugs into a USB-C slot on the Spotlight.
When inserted into the Spotlight, the USB-C end of the cord is completely recessed into the slot. To remove it, you have to pull on the wire. I am concerned that after a while, the wire might start to fray. I would have made the dongle a bit longer so that you can grip it to remove it. To see what I am talking about, go to 1:09 in the video at the very end of this post.
It doesn't work. In such cases, you have to use the remote that comes with the beamer or television screen. Volume control works fine when you connect via VGA connector. It would be great if Logitech could figure out a way to make it work with HDMI.
4. Pointer
Yes, I did mention the Pointer as one of the Pros above, but there is an issue when using it with Presenter Display (Keynote) or Presenter View (PowerPoint). Presenter Display and Presenter View allow the speaker to see more on his laptop than the audience sees on the screen. The audience sees one slide; however, the speaker sees (on his computer) the current slide, the next slide and a timer or clock.
The Spotlight remote recognizes that you are using two screens. If you want to use the spotlight (or magnifying glass), it is possible that it will appear on your laptop at first. You then have to move the spotlight over to the audience screen, which can be awkward. The workaround is to have the spotlight set in the middle of the screen for the audience before the presentation starts.
5. Timer
The Spotlight software allows you to show a timer on your computer when you are in Presenter Display or Presenter View. It is large and can't be resized, so it covers a good part of the screen. Fortunately, you can turn this feature off, which I have done. Both Keynote and PowerPoint already come with timers.
6. Feel
This is less a "Con" and more something to be aware of. The remote is undoubtedly sleek. It is straight, thin and made out of brushed aluminum. However, when I first started using the Spotlight, it felt slippery compared to the rubberized, ergonomic feel of the Logitech R400. And this is not something you want to drop. With time, you will become used to it and adjust your grip accordingly. Just be careful when you start.
7. Other computers
Again, not really a "Con" but something to keep in mind. Often, event organizers like to have all presentations on a single computer. If you plug the dongle of your Spotlight into another computer, and if that computer does not have the Logitech Spotlight software installed, you will have limited functionality. The Advance and Back buttons will work, but the pointer functions and all secondary functions will be gone.
THE BOTTOM LINE
The Logitech Spotlight is a terrific device. Logitech has raised the standard when it comes to presentation remotes.
With time, the price should come down and Logitech should be able to address many of the issues raised above. In fact, I suspect that Logitech might even be able to resolve some of these issues via a simple software update. If and when they do, I will write a follow-up post.
Bottom line: If you give lots of presentations, the Logitech Spotlight is a solid investment.
What others are saying
Below are three product review videos that I have pulled from YouTube, but you can find several others.