On 6 June 2019, I had the pleasure of giving a workshop on public speaking and presentations skills in Hämeenlinna, Finland, at the Summer School of Rhetoric. It is an excellent event, held every summer, at a beautiful location in the idyllic Finnish countryside. It was my second time speaking there; the first was in 2014 when I gave a keynote address.
The event is held over two days. On the first day, there is a workshop for approximately 30 or so people. The second day is a full day of keynotes related to public speaking. It is informative and a great networking opportunity for 250 to 300 people.
The Summer School of Rhetoric, which is bilingual (Finnish-English), was founded by my friend, Antti Mustakallio. He has done a terrific job at developing it and making it a sought-after event in Finland every year.
Among the participants in my workshop was the talented Linda Saukko-Rauta, a graphic recorder who works with businesses to producing real-time "sketchnoting", animated videos and strategic illustrations. She made some wonderful sketches of the different themes that I discussed during my workshop. I thought I'd share them with you here.
Over the coming days, I will post Linda's sketches. While I don't expect everything in them to be clear if you did not attend my workshop, you should still get a sense of what I covered (and how good Linda is).
Today's sketch is about preparation and some of the key issues you always need to think about before you deliver a speech or presentation.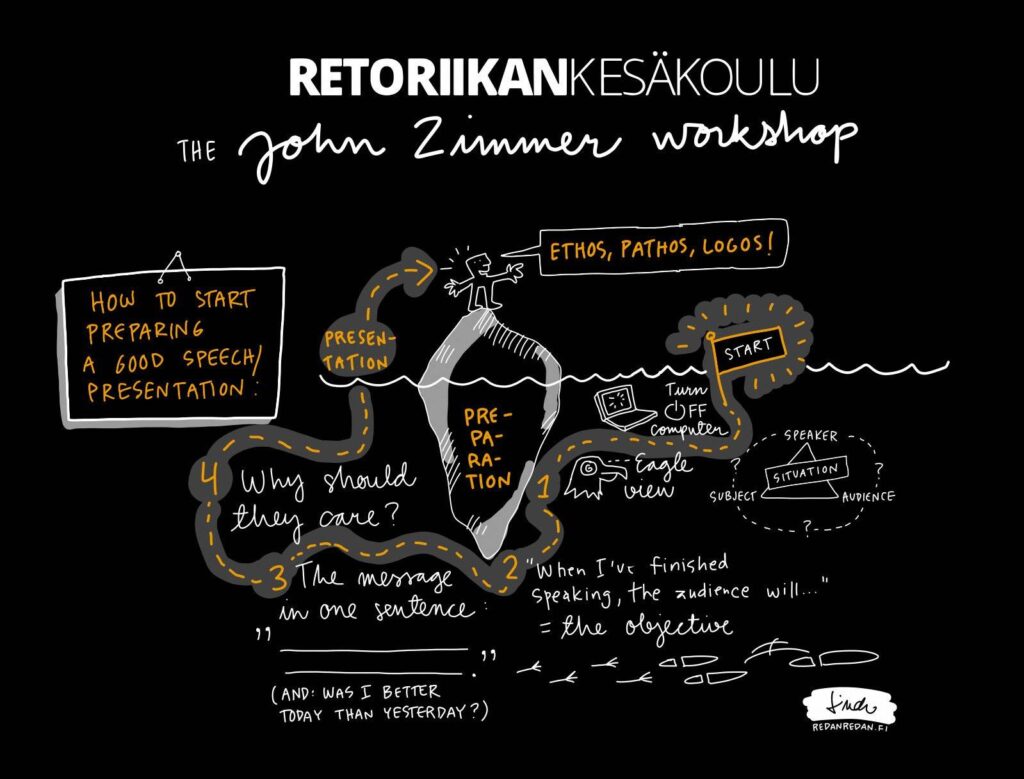 For the next sketch in the series, please click here.