Some new presentation software caught my eye this week: Prezi. Now, I have to say up front that I have not used this technology, nor have I seen it used in an actual presentation. Still, my first impression is a favourable one.
The basic difference between Prezi and PowerPoint or Keynote is that whereas the latter are series of slides, Prezi is a single canvas on which you put all your material. You then move from place to place, zooming in and out and spinning around with a significant amount of freedom. I suggest you click this link to the Prezi website and watch the one-minute video on the main page. Then, click through some of the examples on the bottom of the page.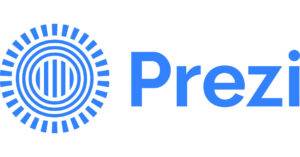 The effect is certainly arresting, in part, I am sure, because of its novelty. As with any presentation, you should use the special effects of Prezi to enhance the message and not outshine it; and I can see how how one might easily get carried away with the "oooh and aaah" factor. You still need great content.
Nonetheless, the presentation software looks intriguing. I particularly like the way in which an entire presentation (such as in the picture above) can look very much like a mind map, which is an excellent way to craft the elements of your presentation holistically and creatively.
I predict that we will be hearing much more about Prezi in the future. In fact, it has already made the big stage. Parag Khanna used Prezi effectively during a recent TED talk.
What do you think of Prezi? Have you used it or seen it in action? It will be interesting to see how it evolves. As is the case with any presentation software, you have to use it properly.