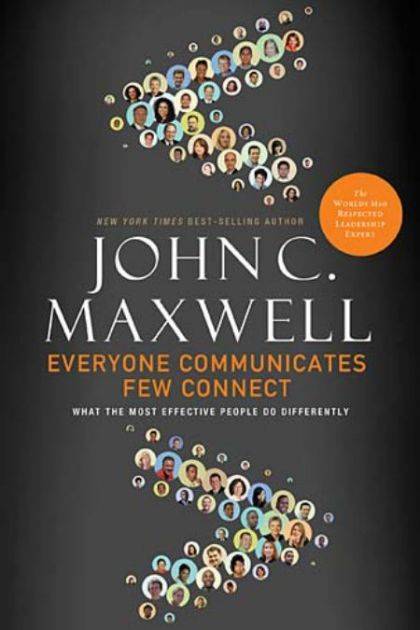 John Maxwell is an internationally respected leadership expert, speaker and author. A New York Times, Wall Street Journal and Business Week best-selling author, Maxwell has sold over 18 million books. His most recent work is entitled Everyone Communicates, Few Connect.
The premise of the book is simple: Talk is cheap. What matters is making your words count and influencing outcomes; what matters is connecting with others. In Everyone Communicates, Maxwell offers his insights into how we can become better at connecting with others. It is a skill that anyone can learn.
There are ten chapters in the book. Each of the first five chapters is devoted to a "connecting principle"; each of the final five chapters is devoted to a "connecting practice.
The Five Connecting Principles
1. Connecting increases your influence in every situation.
2. Connecting is all about others.
3. Connecting goes beyond words.
4. Connecting always requires energy.
5. Connecting is more skill than natural talent.
The Five Connecting Practices
1. Connectors connect on common ground.
2. Connectors do the difficult work of keeping it simple.
3. Connectors create an experience everyone enjoys.
4. Connectors inspire people.
5. Connectors live what they communicate.
The chapters contain insights and anecdotes from famous leaders, ordinary people and Maxwell himself. Each chapter ends with a summary of the key concept learned and advice on how to improve your ability to connect one-on-one, in a group or when speaking to an audience. There are numerous nuggets of advice for public speakers.
In Everyone Communicates, Few Connect, Maxwell does a nice job of bringing together important concepts about connecting with others, and packaging them in a very accessible way for his readers. I would not go so far as saying that the book contains any earth-shattering revelations, but it certainly gets you thinking about changes that you can (and should) make in your interactions with others, and provides you with motivation to do so. And as you go through the book, you sense that Maxwell genuinely wants to help others improve the quality of their lives.
Maxwell is the founder of EQUIP, a non-profit organization that has trained more than 5 million leaders in 126 countries. He regularly speaks to the leaders of a variety of organizations including Fortune 500 companies, governments and the United Nations. He believes that we can create change and results in our organization, our company or even in our own family by using the principles and practices in this book.
If you commit to applying the ideas in Everyone Communicates, Few Connect on a regular basis, I suspect that you will notice a difference in the impact that that you have on others.