Seth Godin is the author of several books about "marketing, the spread of ideas and managing both customers and employees with respect". They are bestsellers. His blog is one of my favourites and I highly recommend it.

In the blog post below from 13 January 2012, Seth discusses why, in his opinion, reading a speech is not a good idea. In short, he believes that reading out loud is different from speaking without notes. We are more natural and show more of our humanity if we speak to the audience and not read to them.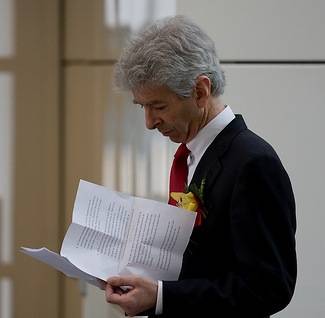 I agree. If you can learn your material well enough to be able to speak without notes, it is the best scenario for several reasons:
You will not be stuck behind a lectern. You will be able to move about freely and engage the audience more.
Yes, reading a speech can be effective, but it is not easy. Winston Churchill, Ronald Reagan and Barack Obama come to mind in this respect. Obama is particularly good in this respect, although he usually has a teleprompter to each side to give him the appearance (especially on TV) of speaking without notes. Chances are you will not be using a teleprompter.
If you must read your speech word for word, there are a few things that you can do to make it a successful.
Write the speech in a way that is natural for your style of speaking.
Keep the sentences relatively short so that you don't have to pause for a breath in the middle.
Notwithstanding the advice above, a much better middle ground, in my view, is to have notes that set out your key points and ideas, but not the entire speech. That way you have a guide to help ensure you don't get lost, but at the same time you are not chained to the text. You can quickly glance at the next point to be covered and then look up and talk about it. If you do use notes in this way, here are some tips.
When it comes to giving a speech, speaking without notes is best and speaking with succinct, focused notes is next best. Reading a speech is the least preferable option. But don't worry if you absolutely have to read your speech. Use it as a starting point and work on reducing your notes at a pace that is comfortable for you.
Photo courtesy of deVos / Flickr
———
Your Voice Will Give You Away
by Seth Godin
It's extremely difficult to read a speech and sound as if you mean it.
For most of us, when reading, posture changes, the throat tightens and people can tell. Reading is different from speaking, and a different sort of attention is paid.
Before you give a speech, then, you must do one of two things if your goal is to persuade:
Learn to read the same way you speak (unlikely) …
… or, learn to speak without reading. Learn your message well enough that you can communicate it without reading it. We want your humanity.
If you can't do that, don't bother giving a speech. Just send everyone a memo and save time and stress for all concerned.