I recently returned from a trip to Russia. I was in Novosibirsk, Siberia. Svetlana Komolikova, Director of the School of Rhetoric in Novosibirsk, had invited me to give a three-day workshop on public speaking and presentation skills. It was a fascinating experience.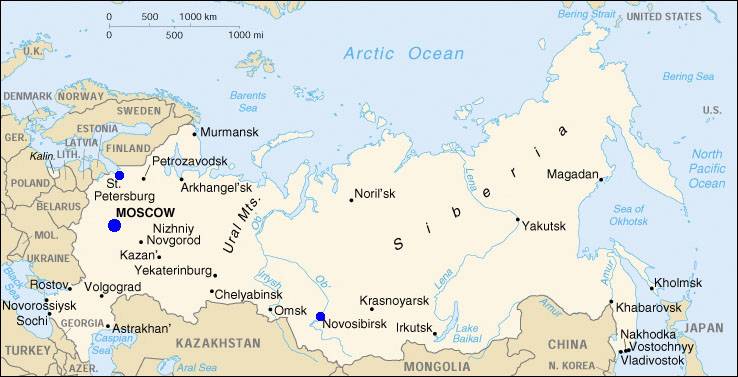 Sitting on the banks of the Ob River, one of the longest in the world, Novosibirsk ("New Siberia" in Russian) is the third most populous city in Russia. It is a major centre for industry, technology and learning. The city has at least 14 universities and other higher education academies.
And it was a real Siberian winter! Stepping off the plane at 6:00 a.m. and walking out into the -25° Celsius early morning darkness was invigorating to say the least! As the snow squeaked under my feet, memories of growing up in Northern Ontario, where winters were often just as cold, flooded back.
But if the weather was cold, the reception that I received could not have been warmer. Svetlana, her husband Anton and the participants were terrific. They were engaged; they were curious; and they were willing to push themselves.
Many of the participants did not speak English. Although my Russian made tremendous progress while in Russia, 40-50 words is not much of a basis for a three-day seminar. So I had to work with both simultaneous and consecutive interpretation. My interpreters, Lika and Lena, were terrific. But I still had to be mindful of the basics when working in such circumstances. If you work with interpreters, this post might come in handy.
Also, when I teach a three-day workshop, I like to show a few short videos, both to demonstrate a speaking point and also to add some variety to the course. I could have used English videos and let the interpreters do the work, but it would not have been effective. So I did some legwork before traveling and discovered some great resources:
It made a great impact and the participants appreciated the extra effort. I also had some of my slides translated into Russian. Further, I sent detailed notes well in advance of the event so that they could be translated for the participants. If you present to an audience that speaks another language, extra work beforehand will make a big difference.
Finally, on the penultimate day of my trip, I had the unique experience of being a guest on a Russian TV Morning Talk Show called "раньше всех". Pronounced "Ranshye Vsyekh", it basically means "Earlier Than Anyone", but I just thought of it as "Good Morning Siberia". They found out that I was in town and so invited me to come on the show.
It was a great experience but also a challenge. As you will see in the video below, I had to focus on the hosts, Anna and Alexander, who were speaking to me in Russian. Meanwhile, Lika, the interpreter, was half whispering the words in English behind me. With my head angled slightly, I was hearing Russian in my right ear and English in my left. It really forced me to focus but was a lot of fun to do!
All in all, my time in Russia was a fantastic experience with some wonderful people. Special thanks to Svetlana for being a wonderful host and a true professional. She found the School of Rhetoric in Novosibirsk seven years ago and is held in the highest esteem by her clients. It was a pleasure working with her. большое спасибо, Светлана и Сибирь!