In his blog post today, 1 June 2016, Seth Godin wrote:
[R]eading more blogs is one of the best ways to become smarter, more effective and more engaged in what's going on. The last great online bargain.

Good blogs aren't focused on the vapid race for clicks that other forms of social media encourage. Instead, they patiently inform and challenge, using your time with respect.
It's a happy coincidence because today also marks the launch of a new digital magazine for public speaking professionals: Presentation Guru.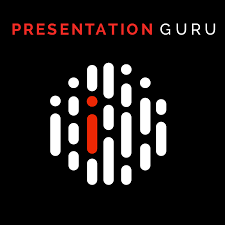 The driving force behind Presentation Guru is Jim Harvey. Jim reached out to Emma Bannister and me to be co-founders of the magazine. He has also assembled a crack team of people with expertise in areas ranging from editing to web design.
Our goal is simple: We want to help speakers, presenters, designers and coaches add freshness and impact to their work, whether they are seasoned professionals or just starting out. To do this, we will feature independent, original and innovative content from experts around the world who represent the best of the public speaking industry.
For our launch, we are excited to feature an interview with Nancy Duarte and articles from experts such as Nick Morgan, Gavin McMahon, Robert Kawalsky and Michael Sinnhuber, to name a few.
Who is the Guru? In fact, there is no single Guru. The members of our community are the Gurus. And that is the philosophy behind this magazine. Jim, Emma and I will certainly be contributing articles (and we already have a few on the site) but we want our readers to benefit from the expertise of a diverse group of people who bring different experiences and different points of view to the table.
So please stop by and have a look around. Leave a comment, share an article on social media and sign up for our free newsletter. And if you have an idea for an article that you would like to submit, please let us know.
You are our inspiration.