Theresa May had a bad day on stage.
"Calamatous!" — "A nightmare!" — "Wretched freakish luck, and agony to behold."
These were just some of the reviews in the press of the British Prime Minister's 4 October 2017 speech in Manchester.
This speech was an important one. With May's popularity dipping, with the recent setback of the Conservative Party in the general election and with the U.K. slogging through the complexities of Brexit, there was a lot on the line. But things did not go according to plan.
As I have said before, if you speak in public often enough, there will be days when things go wrong. For Theresa May, this was one of those days. In spades!
First, a comedian with a penchant for pranks named Simon Brodkin managed to walk right up to the stage—where was security?!—and hand May a P45 form. A P45 is the British form that one receives when one's employment has been terminated.
Brodkin told May that Foreign Secretary Boris Johnson had asked him to give it to her. He was soon led away, but not before walking up to Johnson, telling him, "Boris, job done there. I've given her the P45." and giving him two thumbs up.
Embed from Getty Images
Shortly afterwards, May was struck with a coughing fit and a croaking voice. It took a glass of water and a throat lozenge handed to her by Philip Hammond, Chancellor of the Exchequer, to get her back on track.
Embed from Getty Images
But, there is a saying that bad luck comes in threes—could this be the karmic equivalent of the tricolon?—and so, in a final indignity, the letters of the slogan behind May began to fall off. What began as
BUILDING A COUNTRY THAT WORKS FOR EVERYONE
became
BUILDING A COUNTRY THAT WORKS OR EVERYONE
as the "F" in "FOR" fell to the ground. (Mind you, the resulting message is interesting if you think about it.) But that wasn't all. No, by the end of her speech, the final "E" had also fallen, leaving
BUILDING A COUNTRY THAT WORKS OR EVERYON
Embed from Getty Images
The BBC has put together a short video that captures the essence of everything that went wrong for May.
I'm no fan of Theresa May, but that is some pretty rotten luck. So kudos to her for seeing the speech through to its conclusion. While the fallout remains to be seen, there has been some praise for the way she handled the mishaps.
Still, it is no surprise that May's speech prompted a boatload of memes on social media.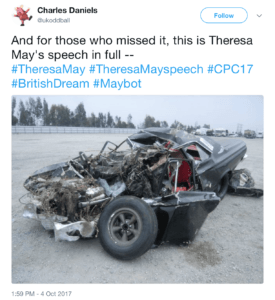 But the Prime Minister herself also got into the game on her Twitter account with a short, clever tweet.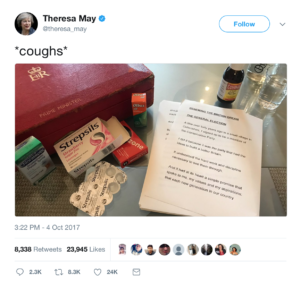 If you speak in public often enough, there will be days when things things go wrong. The next time you have "one of those days" think of it as a character-building exercise and remember that it happens to everyone.