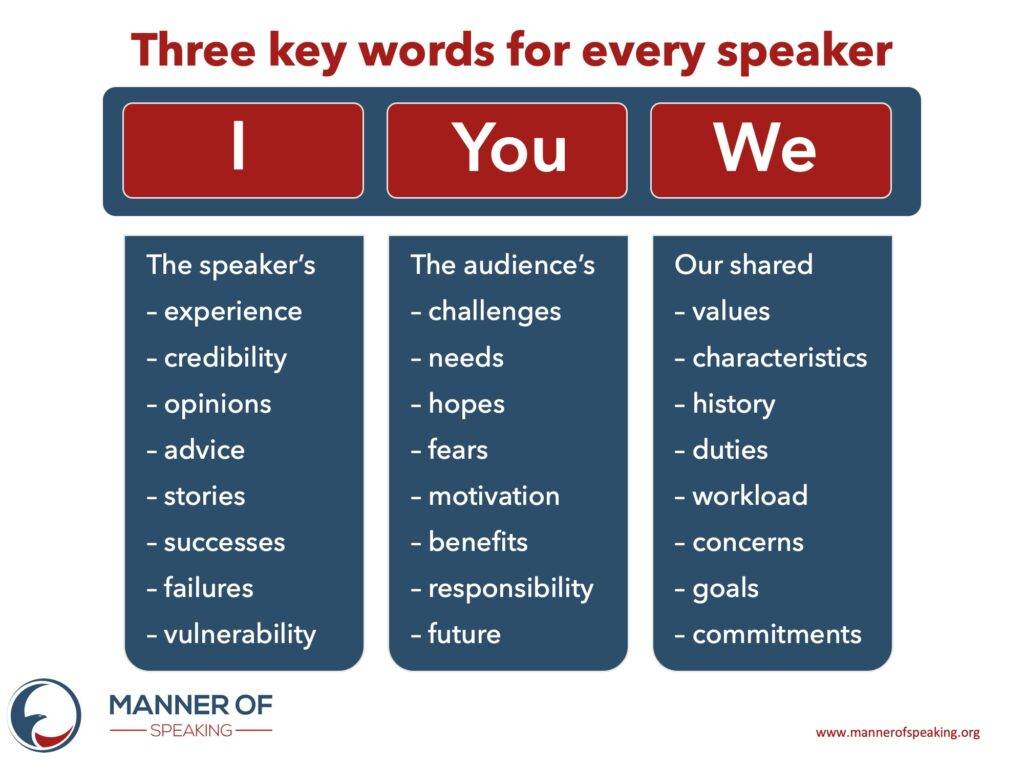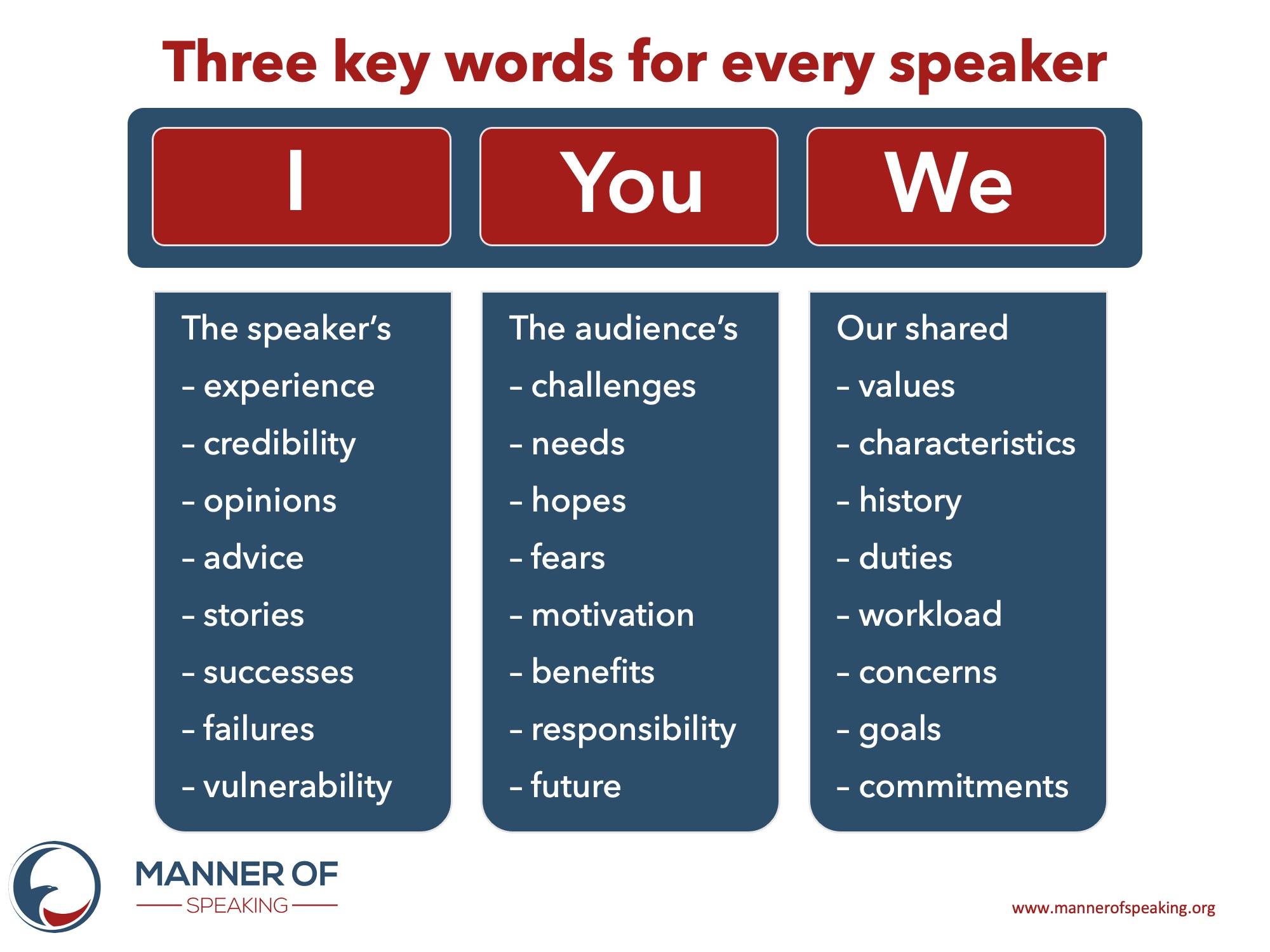 There are three key words that every speaker needs to master. In many respects, they are the most important words that one can say on stage: "I", "you" and "we". Each has its place.
"I" and its variants ("my", etc.)
"I" is all about the speaker and his or her perspective, ideas, experience, opinions and personal stories. The audience is interested – usually – in what the speaker is going to say. People want to hear his or her viewpoint on the subject at hand.
The use of "I" makes the speech more subjective. It can allow the speaker to express his or her compassion or concern for the audience. It can also be used to establish a speaker's authority or expertise.
However, when you speak in public, it is important to balance what you say about yourself with the rest of the talk. Too much "I" can be perceived as arrogance or insensitivity to others.
And remember not to talk just about your achievements and successes. Being vulnerable and talking about your failures or weaknesses – and what you have learned from them – is a great way to strengthen your bond with the audience.
"You" and its variants ("your", etc.)
"You" is all about the people in the audience and their challenges, needs, hopes and fears. Whatever the speaker is talking about, there has to be a reason why the audience should care. Otherwise, why bother to speak?
Whenever speakers prepare for a speech or presentation, they should have a message. But that message has to be relevant for the audience. When a speaker says "you," the people in the audience feel that the speaker is speaking directly to them.
However, note that in English, the word "you" can also be indefinite, not referring to anyone in particular. For example: "You should exercise three days a week." Here, "you" could be replaced with "one" or "people".
"We" and its variants ("our", etc.)
"We" is all about the speaker and the audience together: their common values; common history and common concerns. Whenever there is a shared challenge or objective, "we" is the word to use.
A coach speaking to the team or a CEO speaking to the company or a President speaking to the nation will each use "we" to signal a commonality of purpose and commitment. Indeed, the title of a 2015 Harvard Business Review article specifically states, If You Want to Be the Boss, Say "We" Not "I".
"We" can also be used to differentiate the speaker and audience from "them"; i.e., another group. Politicians often use this technique when speaking. For example, "We will never agree to their unreasonable demands."
Three key words
To see the impact of all three pronouns in action, watch how Barack Obama used them during the final minute of his farewell speech as President in January 2017.
By my count, he said "I" (or its variants) 11 times, "you" (or its variants) 12 times, and "we" (or its variants) 4 times. And he interwove the three masterfully.
"I", "you" and "we" are three small words made up of six letters in total. Yet, they are three key words for any speaker. Use them well and you will make an impact on your audience.