I never thought that a non-fiction book about a sport I rarely follow would hold my attention, but after only a few pages of "Seabiscuit: An American Legend" by Laura Hillenbrand, I was hooked. The story of the little brown horse with the big heart, and the three men who overcame their own hardships to make him a champion, captured the imagination of a country in the grips of the Depression. That story is just as thrilling and uplifting today.
As speakers, we can learn something from Seabiscuit and horse racing in general. The sport provides a useful metaphor for public speaking.
A well delivered speech is like a well run horse race. Think of the speaker as the jockey and the speech as the horse. It is the speaker's job to prepare his speech well and then to get it from start to finish.
The setting
Horse racing is a sport that is subject to the whims of nature. Conditions can be hot, cold, wet, dusty, muddy. There is nothing that jockeys can do about the weather. They can only adjust to track conditions as best they can.
As speakers, we often have little say about the locations in which we speak. Thus, we should always try to visit the speaking venue before our speech (and this includes testing any equipment we need) so that we can become accustomed to it and make any necessary adjustments to our presentation.
The start
In a horse race, the jockey wants to get off to a good start and have his horse well positioned. Seabiscuit was a fast starter.
As speakers, we want to get our speeches off to a strong start. We want our audiences following us from the outset. We do not want to lose their attention early and then have to catch up. How can we get off to a good start? There are many ways; for example, we can ask a provocative question, recite a compelling quotation or tell a captivating story. The key is to get the audience involved from the beginning and wanting to hear more.
The pace
A good jockey controls his horse and helps it find its natural pace and rhythm in a race.
So too, we need to develop a pace and a rhythm that suits our speaking style and is comfortable for us. However, we need to be ready to modulate our speaking rhythm, as necessary, to ensure that our audiences stay with us.
The

transitions
A horse race goes through several transitions: the starting gate; the straightaway; the first turn; the backstretch; the final turn; the homestretch; and the finish line. Jockey and horse must navigate these transitions carefully and smoothly.
A speech also has transitions. Speakers must ensure that these transitions are fluid and made in a way that lets the audience know that a new topic or section of the speech is being introduced.
The

surroundings
Watch a jockey throughout a race and you will see that he is constantly checking his surroundings: his horse; the other horses and riders; the track; the track markers. Depending on what is going on around him, he makes adjustments accordingly.
Speakers also need to be aware of their surroundings. We should make eye contact with all sections of the audience. We should use the speaking area to maximum effect. We must not obstructing the audience's view of any material that we have displayed. Do the people at the back appear to be having a hard time hearing? If so, we should project our voices more.
The finish
Every jockey wants his horse to have a strong finishing kick. One that will propel him to victory at the wire. Seabiscuit had that kick.
As speakers, we should aim to finish strong every time and leave our audiences with a lasting impression. How to do this? Let's return to the metaphor. Where does a horse race end? Pretty much where it began because the track is an oval. That's the way it should be with a speech.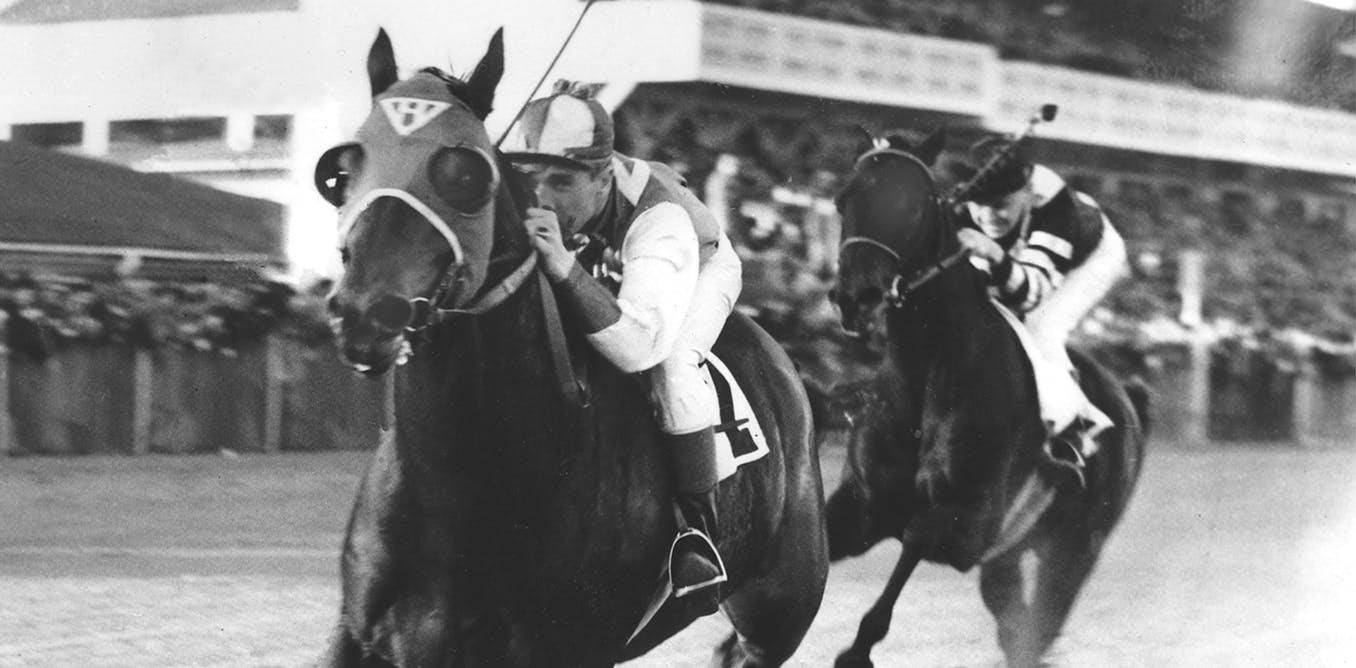 Many people think of a speech as something that is linear. I think that the best speeches are those that come full circle. For example, if we start with a provocative question, we should provide an answer or leave the audience with another question to ponder. If we start with a quote from a famous person, we can end with another quote by that person or perhaps someone else. Or, if we start a story and then transition into the body of your speech without finishing it, we should come back to it. The key is to close the loop in a polished manner that crystallizes our message in the minds of our listeners.
Of course, there is a lot more to be said about each of the elements of a speech mentioned above. But the horse racing metaphor provides an easy-to-remember list of some of the key things to keep in mind in addition to the content of your speech.