Dave Gorman is a stand-up comedian and presenter from England. He has done many creative things on stage, but the two clips below are from his show entitled Dave Gorman's Googlewhack Adventure.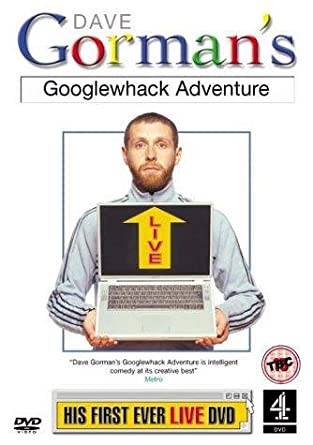 His Wikipedia page describes the genesis for his show:
In 2003, he toured Britain with a show entitled Dave Gorman's Googlewhack Adventure, and published a book of the same name. It is [a] true story. At 31 Dave decided to give up his stupid ways, grow a beard and write a novel. As a result Dave believes people took him more seriously and a new novel was commissioned. While trying to write a novel for his publisher (Random House), Dave became obsessed with Googlewhacks when someone notified him that his site had one (Francophile Namesakes), and caused him to travel across the world finding people who had authored them … He eventually spent his publisher's advance on the quest, and had to create the Dave Gorman's Googlewhack Adventure show to pay them back.
The show is about his "Googlewhack" adventures and it is hilarious. Below are two clips from that show. Each one starts in the middle of a story, but it is pretty easy to pick up the plot.
So, why am I showing them, besides wanting to give you a good laugh? I want to focus on his use of PowerPoint.
In each clip, Dave Gorman uses PowerPoint to support his stories. And he does so brilliantly. His slides are textbook: big images; few words (on the one slide where there are several words, the key ones are emphasized for the audience); and well-timed transitions.
The performance is about Dave and his stories. It is not about the PowerPoint presentation. The slides support and enhance the presentation but they are not the presentation itself.
Once you have watched the performances, go back, turn the sound off and look at the slides again. Would you be able to figure out what Dave was talking about just by looking at the slides? I doubt it. His show is a welcome change from the millions of presentations in which every single point is excruciatingly written out and read by the presenter.
Remember this the next time you are using PowerPoint or other slide presentation software. The slides are not the presentation. You are. If your audience can get all of the information from your slides, then why do they need you?
And now, sit back, relax and enjoy the show. Fair warning: Dave does use barroom language at times, but it isn't anything that you haven't heard before.
Clip No. 1 – Airfare and Dictionaries
Clip No. 2 – What Happened in Austin, Texas
If you want to know more about Dave Gorman, you can visit his website or blog.