If you use PowerPoint or Keynote to support your presentations, do yourself—and your audience—a favour. Invest in a remote control. It will enhance the professionalism of your presentations.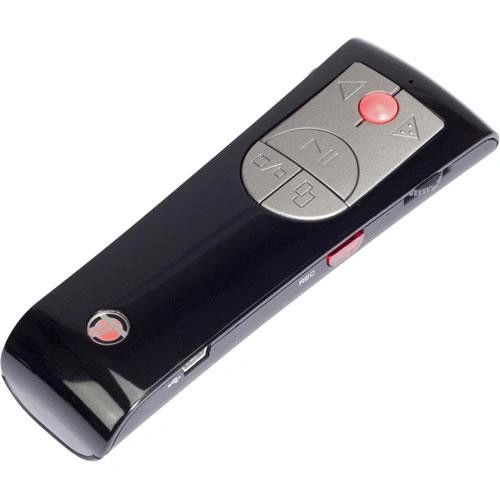 Have you ever sat through a presentation in which the speaker was constantly running back and forth to the computer to hit the button that advanced the slides? It is an unecessary distraction. For a modest price, you can buy a remote that will free you from your computer and allow you to stay engaged with your audience.

I use the Targus AMP05US (pictured at right). It works well and gives me everything that I need. You can see the range of Targus remotes, with their specifications, here. However, there are other brands such as Logitech.
Different remotes come with different features. For example, the Targus AMP05US has SD Card storage so that I can record the audio of my presentations. Neat as that feature is, however, it is not necessary.
The most important features are the basic ones: (a) an on-off switch; (b) buttons to advance to the next slide and return to the previous slide; (c) a button to turn the screen black (and then back on again); and (d) a laser pointer (which, in any case, should be used sparingly).
Many people shy away using from remotes for fear of hitting the wrong button. However, with a little practice beforehand, anyone can master the technology. It's not exactly a James Bond gadget – though it would be cool if it were!
So go ahead and pick one up. You'll be glad that you did. Oh, and one last thing – always have an extra set of batteries just in case yours run out during the presentation. Even Bond needed a backup from time to time.

***UPDATE***
I no longer use the Targus. The technology has evolved over the years and I now use the Logitech Spotlight.