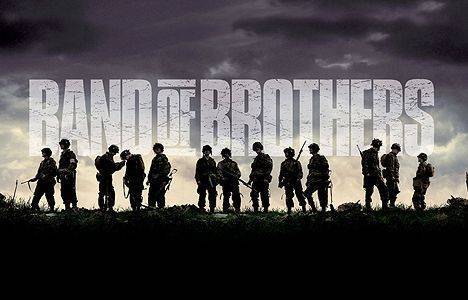 Two posts ago, I looked at Kenneth Branagh's St. Crispin's Day speech in the film Henry V. That speech — particularly the line "We few, we happy few, we band of brothers" — was the inspiration for the title of a book and the subsequent television mini-series that it spawned: Band of Brothers.
The mini-series was based on the real-life World War II experiences of E Company ("Easy Company") of the 2nd Battalion, 506th Parachute Infantry Regiment assigned to the 101st Airborne Division of the U.S. Army. It followed the men of E Company from their training to Normandy to Germany and the end of the war.
The series had many poignant moments, but one of the most moving was the speech below by a German General to his defeated troops. It was a speech that resonated not only with the German soldiers but also with the American soldiers listening. The German General eloquently conveyed in a few words the sentiments shared by all who fought, regardless of the uniform that they wore.
Here are some reasons why I liked the speech:
As difficult as it must have been, the General kept his composure. If good speeches are needed in good times — and they are — they are critical in difficult times, when people are hurting and need to hear words of encouragement and hope. In such times, it is incumbent on speakers to remain poised and to demonstrate leadership, even when they are burdened with the same challenges as the audience.
The General acknowledged the suffering and hardship that the men endured. He didn't attempt to soften it. When delivering difficult news, it is almost always better to be upfront with one's audience.
He spoke in a loud and clear voice.
He spoke with genuine emotion.
He paused frequently (even if the pauses had to be extended somewhat to allow for translation into English for viewers).
He maintained constant eye contact with his troops.
The speech was entirely about the men. In fact, the General referred to himself only once — to say how proud he was to have served with his soldiers.
The General concluded on a hopeful note, wishing his men long, happy and peaceful lives.