The 2011 World Championship of Public Speaking, hosted by Toastmasters International in Las Vegas, Nevada, is now history. Congratulations to all contestants, especially Jock Elliott (1st Place), Kwong Yue Yang (2nd Place) and Scott Pritchard (3rd Place).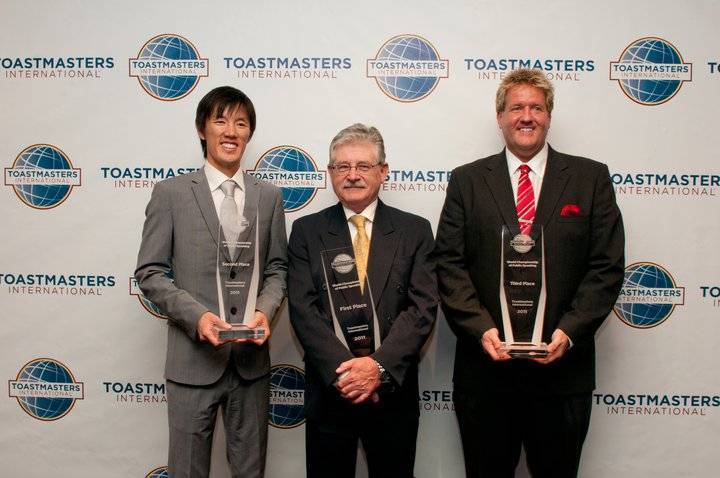 I must, however, say a special word about my friend, Olivia Schofield, who also participated in finals. She represented District 59, which comprises 18 countries in Continental Europe.
Olivia gave a terrific speech about her efforts to overcome a speech impediment when she was younger. It was poignant, funny, moving and inspirational. Her message? Don't let your limitations make you believe that you are a failure. The speech left people in tears and cheering. In fact, the only thing wrong with Olivia's speech … was that it ran 15 seconds overtime and she was disqualified!
That's a tough pill to swallow. I know that I am biased, but I am certain that had she not gone overtime, Olivia would have been on the podium and may well have won the contest. I hasten to add that nothing is to be taken away from Jock, Kwong and Scott. They each gave a fantastic speech. And they stayed within time, which is critical. They won fair and square and are to be warmly congratulated.
Indeed, Jock deserves special recognition. He has competed in Toastmasters speech competitions for over 20 years, made it to the Finals five times before this year, and finished third in 1994. In fact, in 1993, Jock (like Olivia this year) was disqualified for going over time. Talk about passion and persistence! Jock is an example for us all when it comes to both public speaking and not giving up on your dreams.
Returning to Olivia, what has impressed me (and many others) the most about her has been the classiness with which she has handled this experience. She has taken her disqualification in stride and good humour. One of her first statements on Facebook after being disqualified: "Oh well, just have to make a keynote speech out of it!"

I had a long chat with Olivia last night on Skype. The main thing we talked about was the terrific response she got from people who came up to tell her how much her speech meant to them. We also talked about what she learned from this experience, what the future might hold for her and how she could continue to share her message with others. There was little time for regret. And therein lies another lesson for public speakers.
If you are going to speak in public, you are going to have setbacks. Whether it's going overtime in a speech competition, forgetting a key point, having your equipment fail without a back-up plan, losing your audience's interest, or any one of a thousand other things, you are going to have your share of bad days. That's part of the deal. The key is how you handle the experience, what you learn from it and what you do going forward.
Again, congratulations to all contestants in the 2011 Toastmasters World Championship of Public Speaking.