Two days ago, my wife and I went to the theatre here in Geneva. We saw Blue Butterfly, a play written and performed by a talented group of scientists. The play is clever, complex and insightful. It grew out of a group of artists and scientists "sitting in a room swapping stories, sharing passions and searching for common ground".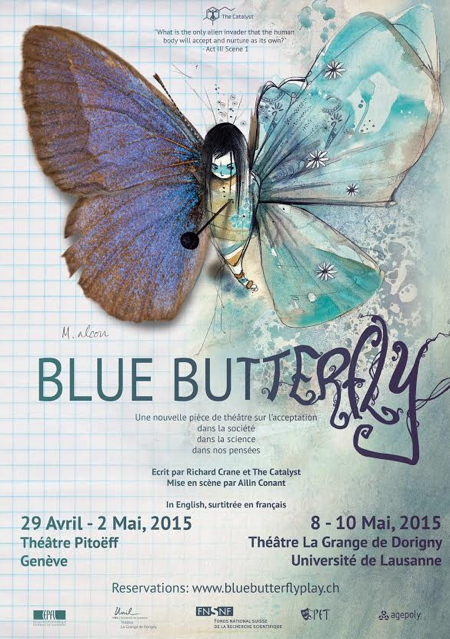 Yesterday, I was back at the theatre, but not as a member of the audience. It was the final performance of Blue Butterfly in Geneva. The troupe asked me to moderate an open Question and Answer session with the audience after the play.
This meant giving up my Saturday evening, preparing, arriving during intermission, spending time backstage and, finally, moderating the session. A fair bit of effort. Why did I do it?
First, I was glad to help out thf people who put a tremendous effort into creating and staging this play. I know some of the cast members, including a good friend with whom I do improv. It was nice to be of some service to them.
Second, it was an excellent opportunity to get some public speaking practice. I went on stage in front of a very engaged audience of about 125 people, gave a short introduction, got things rolling by asking the first question and then fielded queries from the audience. For 30 minutes, I moderated the session, drew out questions from the audience, engaged different members of the cast (who were also on stage), injected a bit of humour and, when questions weren't immediately forthcoming, kept the flow going by asking my own.
In the end, I did not have to speak a whole lot; perhaps five minutes in total. That's much less than the time I usually speak at other events. But that's five more minutes of public speaking experience under my belt. And that's the point. Becoming a good speaker is a cumulative process. Whenever we speak in public, even for a few minutes, that's a few more minutes of public speaking experience.
In my previous post, I quoted my friend, Florian Mueck, who compares public speaking to a mountain without a top. We'll never reach perfection, but we can all climb higher. The way to climb is to speak. Look, if you want to be a good dancer, you have to dance; if you want to be a good writer, you have to write; if you want to be a skier, you have to ski. And if you want to be a good speaker, you have to speak.
———
Blue Butterfly is the story of a young family grappling with demanding careers, an abnormal child, and fundamental forces of nature. Natalie and Simon are struggling scientists who resort to TEDx Talks and TV to thrust their research into the spotlight, while their brilliant but dangerous seven-year-old daughter gravitates towards her grandmother's mystical beliefs. Their research into cancer, parasitism and immunology echoes the complex dynamics of a family blind to their own dysfunction.