Neil deGrasse Tyson is an American astrophysicist and author. He is also one of the most compelling speakers when it comes to talking about science.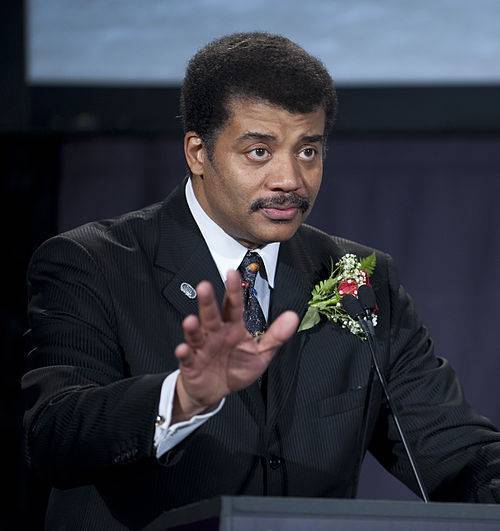 In the short video below, Tyson is asked the following question: "What is the most astounding fact that you can share with us about the universe?" Now that's a pretty profound question. Tyson's answer is thoughtful, moving and just as profound. When combined with spectacular visuals and music, the result is a beautiful three-minute video.
Coming back to Earth for the moment, there is a lot that we can learn about public speaking from Tyson's answer.
Notice how he takes his time when giving his answer. When the question is asked, he pauses for several seconds before speaking. In fact, when he starts to speak, he pauses again and the person asking the question interjects to remind him of the question. But Tyson did not need reminding. He understood the question and wanted to give an appropriate answer. If you are asked a question, don't answer immediately. Think about what you have been asked. You will give a better response and you will come across as thoughtful and sincere.
Neil deGrasse Tyson does not rush his words. He speaks slowly and with purpose, choosing each word for maximum effect. This is the mark of a great speaker.
He speaks with emotion. It is not overdone, but it is definitely there. And he chooses key words to emphasize: "crucibles that cooked" (0:25); "these stars" (0:36); "scattering" (0:45); "but I feel big" (1:41); "participant" (1:59).
Tyson makes the complex understandable, not only by speaking slowly, but also by using simple words. I love the phrase, "scattering their enriched guts across the the galaxy".
He uses rhetorical devices:
Tyson has something worthwhile to say and he makes it relevant for the audience.
The full text of Tyson's answer is below. Play the video once more and listen to Neil deGrasse Tyson speak as you read along.
The Most Astounding Fact
The most astounding fact is the knowledge that the atoms that comprise life on Earth, the atoms that make up the human body, are traceable to the crucibles that cooked light elements into heavy elements in their core under extreme temperatures and pressures.
These stars, the high mass ones among them, went unstable in their later years. They collapsed and then exploded, scattering their enriched guts across the galaxy. Guts made of carbon, nitrogen, oxygen and all the fundamental ingredients of life itself.
These ingredients become part of gas clouds that condense, collapse, form the next generation of solar systems, stars with orbiting planets. And those planets now have the ingredients for life itself.
So that when I look up at the night sky and I know that yes, we are part of this universe, we are in this universe, but perhaps more important than both of those facts is that the universe is in us. When I reflect on that fact, I look up—many people feel small because they're small and the universe is big—but I feel big, because my atoms came from those stars. There's a level of connectivity.
That's really what you want in life, you want to feel connected, you want to feel relevant, you want to feel like you're a participant in the goings-on of activities and events around you. That's precisely what we are, just by being alive.