As election year 2016 rolls along in the United States, we can no longer ignore the very real possibility that Donald Trump will be the Republican nominee for President. I did not think that American politics could get much more bizarre, but this election cycle has proven me wrong.
As Trump's support grows and as the Republican establishment's conniptions over his popularity become more violent, it occurred to me that I have been remiss in not taking a closer look at his speaking style on this blog. So I am rectifying the situation.
Trump knows how to captivate his base
Even if you share my opinion that many of Trump's statements are repugnant, juvenile or just plain incoherent, there is no denying his ability to captivate and persuade a large segment of the population. There is much that could be said about Donald Trump's speaking style but in this post I want to focus on one thing that he does very effectively whenever he speaks in public.
In fact, Trump himself gave away his secret at a 30 December 2015 speech in Hilton Head, South Carolina. You need only watch one minute of the speech and the video below will start and end at the operative moments.
Did you catch Trump's secret? Here's the relevant text from his speech.
I used to use the word incompetent. Now I just call them stupid. I went to an Ivy League school. I'm very highly educated. I know words, I have the best words … but there is no better word than stupid. Right?
Now, many people will roll their eyes and have a bit of a chuckle at this proclamation. I did. But the point that Trump makes is spot on. Simple words are effective. Don't take my word for it. Let's consult one of the greatest writers of the 20th century in the English language, Ernest Hemingway.
The power of simplicity
Hemingway got into a fairly high profile row with fellow author, William Faulkner. When Faulkner was visiting the University of Mississippi in 1947, he answered a number of questions from students. At one point he said this of Hemingway: "He has no courage, has never crawled out on a limb. He has never been known to use a word that might cause the reader to check with a dictionary to see if it is properly used."
According to A. E. Hotchner, a friend of Hemingway who wrote the memoir Papa Hemingway, when told of Faulkner's comments, Hemingway responded:
Poor Faulkner. Does he really think big emotions come from big words? He thinks I don't know the ten-dollar words. I know them all right. But there are older and simpler and better words, and those are the ones I use.
Or, given that we are talking about Donald Trump and the fight for the American Presidency, let's take a political figure and one of the most compelling speakers of the 20th century, Winston Churchill. Here's his advice:
Broadly speaking, the short words are best, and the old words best of all.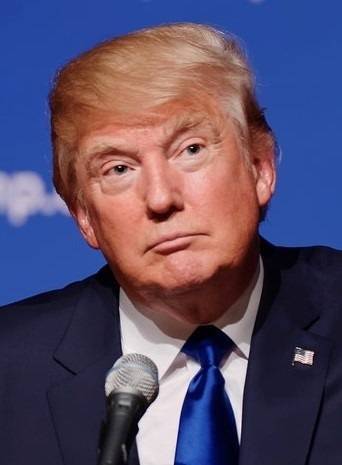 Do you see a pattern here? He might not be eloquent—in fact, he is far from it—but Donald Trump is keeping very good company when it comes to his speaking strategy. And it is paying off. He is connecting with audiences across the country. Just look at the states that he has won thus far in the Republican primaries and caucuses. From Massachusetts to South Carolina to Arkansas to Nevada, Trump is winning people over.
Even those who are virulently anti-Trump pick up on the simplicity of his language, if in a denigrating way. Take this recent editorial from Salon with not-so-subtle title, America, you're stupid: Donald Trump's political triumph makes it official—we're a nation of idiots. It notes how, with a relatively limited vocabulary, Trump has been able to convince (bamboozle) many people.
I hate to have to say it, but the conclusion stares us in the face: We're a stupid country, full of loud, illiterate and credulous people. Trump has marched straight to the nomination without offering anything like a platform or a plan. With a vocabulary of roughly a dozen words – wall, Mexicans, low-energy, loser, Muslims, stupid, China, negotiate, deals, America, great, again – he's bamboozled millions of Americans. And it's not just splenetic conservatives supporting Trump or your garden-variety bigots (although that's the center of his coalition), it's also independents, pro-choice Republicans, and a subset of Reagan Democrats. [Emphasis added.]
Simplicity works
I have stressed the importance of simplicity when speaking in public numerous times in this blog. In their classic book, Made to Stick, Chip and Dan Heath list simplicity as one of the key elements of a sticky message. Great minds from Frédéric Chopin to Bruce Lee have recognized the power of simplicity. And Leonardo da Vinci still said it best:
Simplicity is the ultimate sophistication.
In the video essay below, Evan Puschak (a.k.a "The Nerdwriter") offers some interesting insights on Trump's answer to a question about his proposal to temporarily ban all Muslims from entering the United States. Admittedly, he is only parsing one sentence, but his analysis is excellent and applicable to many of Trump's statements. Although it is clear that Puschak has no great love for Donald Trump, the video is, on the whole, fairly unbiased.
Puschak looks at several aspects of Trump's speaking style. Pay particular attention to what he says about the simplicity of the words that Trump uses.
Simplicity is powerful and memorable. Simplicity works. And Donald Trump is making it work for his campaign.
Of course, simple words alone have not contributed to Trump's success; it is more complicated than that. But there is no doubt that Trump's simple (and simplistic) words is a key weapon in his arsenal when it comes to persuading people.