The fight over the nomination of Brett Kavanaugh was the ugliest confirmation process for an American Supreme Court Justice that I have seen. I'm not American, but I am a lawyer, and I thought it was a sad indictment on how politicized the American legal system has become. A thoughtful, independent judiciary is a cornerstone of any healthy democracy.
If you followed the hearings before the Senate Judiciary Committee, you are undoubtedly aware of the allegations of sexual assault that were brought against Kavanaugh by Dr. Christine Blasey Ford and others. In response to those allegations, the FBI was ordered to carry out an investigation that was extremely limited in scope and time. When, predictably, it found no evidence to corroborate the allegations, Kavanaugh was confirmed as the newest Supreme Court Justice by a narrow 51-49 majority in the Senate.
The testimony of Brett Kavanaugh
I watched the testimony of both Kavanaugh and Blasey Ford. In my opinion, the latter was the more credible of the two. Quite simply, I believed her. Having said that, I acknowledge that, from a legal standpoint, there was not enough evidence before the Senate Judiciary Committee to prove, to the requisite standard, that Kavanaugh was guilty.
Nonetheless, I believe that his demeanour during the hearings was sufficient to disqualify him from a seat on the Supreme Court. I found many of his answers to questions from the Senators to be evasive, disrespectful or both. Further, his opening statement was full of vitriol that included outright attacks on certain members of the government. Yes, Kavanaugh was under tremendous pressure, but that is when you see a person's true character. And when it comes to character, a country has to hold its judges to the highest standards.
Now, although this blog does venture into politics from time to time, that is not its purpose. The focus is on public speaking. So how does the Kavanaugh nomination fit? It has to do with the vote against his nomination by North Dakota Democratic Senator, Heidi Heitkamp.
Heitkamp was one of only three Democratic Senators who voted to confirm Donald Trump's previous Supreme Court nominee, Neil Gorsuch. And she was initially inclined to vote the same way on Kavanaugh. Even when Blasey Ford brought forth her allegations, Heitkamp was concerned but still inclined to give Kavanaugh the benefit of the doubt.
Nevertheless, she watched the special hearing during which both Kavanaugh and Blasey Ford testified. After the hearing ended, Heitkamp changed her mind and decided to vote against Kavanaugh. Here is an excerpt from a CNN article that provides part of the rationale for Heitcamp's decision:
She watched Ford's testimony. And then she watched Kavanaugh's. And then she watched Kavanaugh's again, but this time, with the sound off. "It's something I do," she said, "We communicate not only with words, but with our body language and demeanor."
"I saw somebody who was very angry, who was very nervous, and I saw rage that a lot of people said, 'Well of course you're going to see rage; he's being falsely accused,' but it is at all times you're to acquit yourself with a demeanor that's becoming of the court."
I found it interesting that after watching and listening to Kavanaugh's testimony, Heitkamp watched it again but without the sound.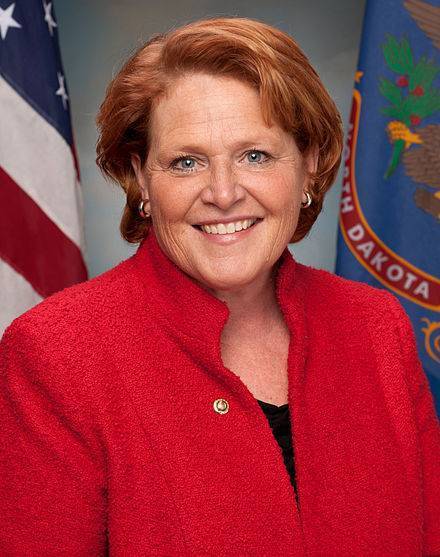 When you watch a video without sound, you have no choice but to focus on the visual. If you watch the video of a speech or presentation without the sound, you have to focus on things like the speaker's facial expressions, gestures and movements.
Use video to improve your public speaking
Clients often ask me whether they should practice their speeches in front of a mirror. I tell them no, because you end up trying to watch yourself when you should focus on your message and the audience. And it feels unnatural. It's much better to film yourself and then watch the video.
If you want to get the maximum benefit from video, you should use it three ways:
1. Play the video but don't watch it. Just listen. You will have to focus on your voice and things such as pace, rhythm, pauses, clarity, emphasis, intonation and articulation.
2. Play the video and turn the volume off. Just watch. You will have to focus on your body language. Where are you looking? How are you standing and moving? What are you doing with your hands?
3. Watch the video with sound to get the complete picture.
It's not easy to watch yourself on video—I still cringe whenever I watch myself—but it is a great way to get unvarnished feedback.
Clearly, when deciding whether to appoint someone to the Supreme Court, you have to do a lot more than watch a video without the sound. There are a myriad of complex considerations that one has to take into account, including the candidate's judicial record. But temperament and personality are also considerations and you transmit those qualities through voice and body language.
In the same way, your audience will form an impression about you and your message based on content and structure, but also by how you hold yourself on stage. Your facial expressions, your gestures and your movements all communicate something to the audience. To see what they saw, have a look at the video.