Questions from the audience. They are an important part of any presentation because they give members of the audience a chance to let the speaker know what is on their mind.
Sometimes, however, audience members might be reluctant to ask a question — after all, it requires them to speak in public — so I always recommend that speakers have a question "in their pocket" that they can ask themselves. For example, "While you're thinking, one question that I often get is …". That usually starts the ball rolling.
Today, while reading an interesting article entitled 52 things I learned in 2019, I discovered another tip (No. 52 on the list) to soliciting questions from the audience. It comes from Dr. Jacqueline Antonovich, an Assistant Professor at Muhlenberg College, specializing in history of medicine, gender and politics in the American West.
Her advice is not to ask your audience the standard, "Any questions?" — which leaves open the possibility that they might not have any — but instead to ask, "What questions do you have for me?". The latter question assumes that there are questions.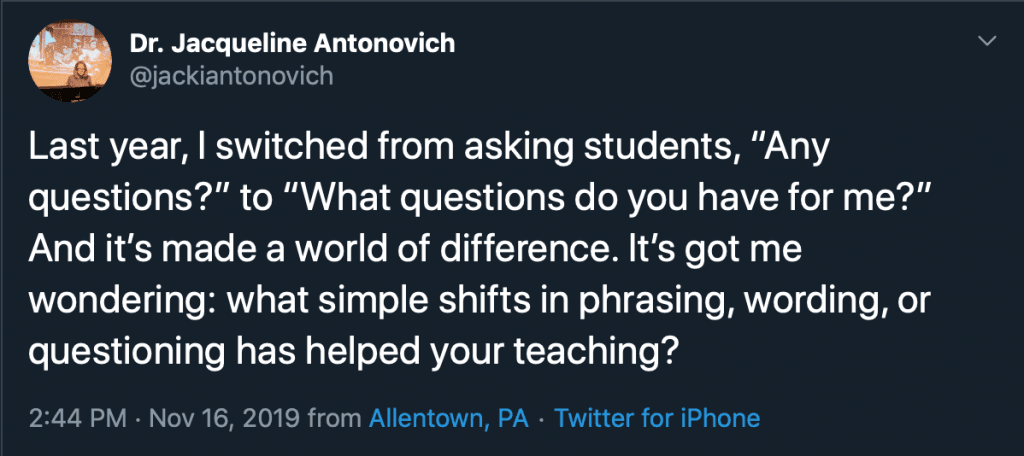 According to Dr. Antonovich, the results from this simple shift in phrasing have been dramatic. I intend to try this out during my speaking engagements in 2020 and will let you know the results. And should you try this technique, I'd be interested in hearing about your experience. Just leave a comment below.
If you click on the image of the tweet above, you will be taken to the discussion thread. There you can read some other interesting shifts in phrasing, in different contexts, that have made a difference to people.