While I am not a huge fan of Gordon Ramsay, I have, on occasion, watched an episode or two of Kitchen Nightmares and Hell's Kitchen. I always thought that the shows were intentionally over-the-top in order to boost TV ratings, but I do admit that I laughed out loud on more than one occasion.

However, after recently reading Anthony Bourdain's excellent Kitchen Confidential, I realize that some of the things that happen on Ramsay's shows are closer to reality than I first thought. And if you pay attention, there are lessons to be learned that apply to more than cooking.
The premise of Kitchen Nightmares is that Ramsay works with struggling restaurants and helps them turn their fortunes around. In the 9th episode of Season 3, Ramsay went to Boca Raton, Florida to help a family-run restaurant called Anna Vincenzo's. Business had slowed and the owner was trying to figure out what went wrong.
It wasn't long before Ramsay realized what the problem was. To make sure that everyone working at the restaurant understood the problem, he took a dramatic step that made quite an impact. And it contains a valuable lesson for those who deliver corporate presentations.
The problem and what Gordon Ramsay did
Ramsay realized that the problem lay in the restaurant offering too many dishes. He could clearly see that the extensive menu was increasing costs, overwhelming the kitchen and diluting the quality of the food. The result was inconsistent quality and subpar results.
To drive home the point, Ramsay challenged the cooking staff to make every dish on the menu – 181 in total – in one go. He then confronted the owner and her staff with the results by placing the dishes on all the tables in the restaurant. But he didn't stop there. Ramsay then had the staff go through each item on the menu and state whether it was fresh or frozen. In the end, 80% of the menu was frozen and only 20% was fresh.
So what was Gordon Ramsay's solution?
Make drastic cuts to the number of dishes being offered.
Focus on fresh, homemade recipes.
Put quality above quantity.
Here's the relevant three-minute clip from the show. Well worth watching.
The relevance for your presentations
Gordon Ramsay's drastic move serves as a powerful analogy for a problem that I see over and over in the corporate world today: presentations that are just as bloated and stale as the menu at that restaurant.
Speakers often fall into the trap of trying to cover too much ground, packing their slides with excessive content, data and messages. They feel the pressure to include everything they know, which more often than not leaves the audience feeling confused, disengaged and unable to digest the message (pun intended).
What's on your menu?
In today's fast-paced business environment, attention spans are shorter than ever. Presenters have limited time to capture and hold their audience's attention. To continue with the food metaphor, you need to serve your audience something that tasty, nutritious, well presented and memorable.
If speakers want to prepare and deliver a compelling and impactful presentation, it is crucial that they focus on what truly matters and cut out the excess. A focused presentation is important for several reasons:
(a) Clarity
A focused presentation allows speakers to clearly convey their main message or key points. It helps the audience understand the core of the presentation without being overwhelmed by irrelevant information. Just as Gordon Ramsay wanted the kitchen staff to focus on cooking a few quality dishes, presenters should focus on delivering a clear, concise, and coherent message to their audience.
(b) Engagement
A focused presentation is more engaging and memorable for the audience. It enables speakers to create a compelling narrative, highlight key insights, and use effective visuals to support their message. When presenters try to do too much, audiences can easily lose interest, resulting in disengagement and reduced impact. Like Gordon Ramsay urging the kitchen staff to create high-quality dishes for their customers, presenters should strive to create a memorable experience for their audiences.
(c) Impact
A focused presentation has a greater impact on the audience. It allows speakers to emphasize the most critical information and drive home their key points effectively. Presenters who try to cover too much ground risk having their message buried under extraneous material, leaving the audience overwhelmed. Just as Gordon Ramsay emphasized the importance of quality over quantity in the Kitchen Nightmares episode, presenters should prioritize the impact of their message over trying to cover too much content.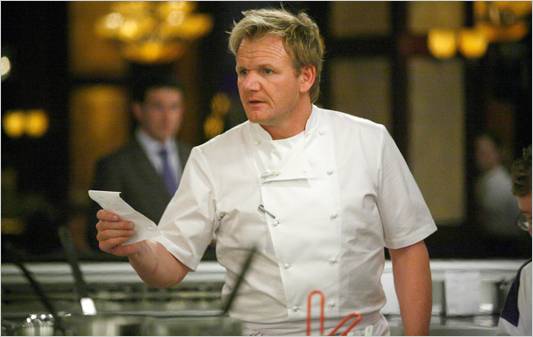 Get your kitchen in order!
How can you apply the lesson from Kitchen Nightmares and focus for impact in your next presentations? Here are some ideas to consider:
Define your message: Start by clearly writing out the message for your presentation. What is the key takeaway you want your audience to remember? Don't cover too many topics or have multiple messages in one presentation. Instead, focus on one or two main points and build your content around them. Just as Gordon Ramsay emphasized the need for quality over quantity, prioritize the message you want to convey.
Know your audience: Understand your audience's needs, expectations, and level of knowledge. Tailor your content and delivery to resonate with your specific audience. Avoid burdening them with unnecessary information or jargon. Just as Ramsay considered the taste preferences and expectations of the restaurant's customers, consider what your audience needs to hear and how best to communicate what they need to hear.
Use visuals strategically: Visual aids can be powerful tools in presentations, but they should be used strategically. Avoid cluttering your slides with too much text or complex visuals that can distract from your main message. Instead, use simple, visually appealing visuals that support and enhance your key points. Gordon Ramsay emphasized the need for visually appealing and well-presented dishes. You should ensure that your visual aids are clear, impactful, and relevant to your main message.
Be concise and organized: Practice brevity in your presentation. Avoid rambling or going off on tangents that can distract from your message. Keep your content concise, organized, and focused on your main points. Use a clear structure, with an introduction, main body, and conclusion, to guide your audience through your presentation. Gordon Ramsay expects the kitchen staff to be organized and efficient in their cooking. The audience expects no less from your presentation delivery. For a detailed review of how to structure your speech or presentation, see this post.
Engage your audience: Keep your audience engaged throughout your presentation by using interactive techniques such as asking questions, using anecdotes, or involving them in discussions. Avoid monotonous reading from your slides or speaking in a robotic manner. Notice what Gordon Ramsay did for his audience:

He used props (the 181 dishes set out in the restaurant).
He used another prop by displaying the menu on posters.
He involved the audience by asking questions and having two members assist him with the labels.
Practice and prepare: Preparation is key to delivering a focused and impactful presentation. Practice your content, timing, and delivery to ensure smooth and confident delivery. Rehearse in front of colleague or a mentor who can provide feedback and suggestions. Just as Gordon Ramsay expected the kitchen staff to practice and perfect their cooking skills, you should practice and prepare for your presentation to ensure it is polished and effective.
Be willing to cut and edit: Just as Ramsay advocated for a streamlined menu in Kitchen Nightmares, you should be willing to cut and edit your content. Review your presentation critically and eliminate any unnecessary information, redundant slides or irrelevant details. Less is more in presentations, and a streamlined, focused approach can make a bigger impact.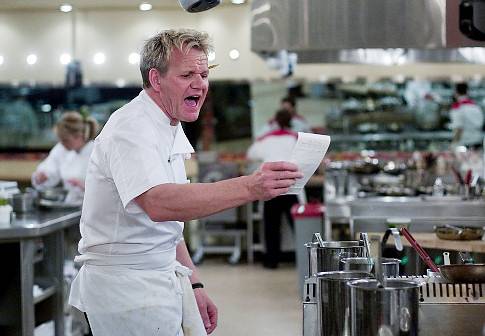 Final Thoughts
Gordon Ramsay's insistence on focusing on quality over quantity is as a valuable reminder for presenters. Trying to do too much in a presentation can dilute the impact and effectiveness of the message. By focusing on what is truly important, you can create a clear, engaging, and impactful presentation that resonates with your audience.
So, trim the fat, prioritize your key points, engage your audience, and deliver a powerful and memorable presentation that will leave a lasting impact with no heartburn! Quality over quantity – it's a mantra that applies not just in the kitchen, but also in the world of corporate presentations.
Bon appétit!