Lost in Translation is a terrific film that received critical acclaim when it was released in 2003. Starring Bill Murray and Scarlett Johanson, it's the story of an aging actor and a young college graduate who meet in Tokyo and develop a touching friendship. Both poignant and funny, the film explores the issues of loneliness and finding one's place in the world.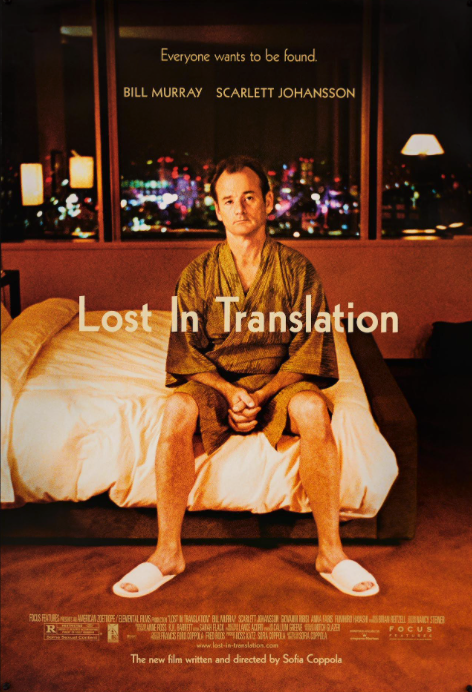 One of my favourite scenes takes place at the beginning of the film. The career of Murray's character has been in decline. However, he is offered $2 million to travel to Japan and film a commercial for Suntory Whisky.
The scene takes place during one of the commercial. The director speaks Japanese and Murray's character speaks English. So they have to communicate through an interpreter. As for how much gets through … well, take a look.
This scene always makes me smile. It also calls to mind the many times that I have worked with interpreters over the years. Through my work at the United Nations, the International Organization for Migration, and the World Health Organization, I gave many presentations working with interpreters both in Geneva, Switzerland and across the Middle East.
Although I recommend that you learn at least a few basic words of the local language if you have the opportunity to speak in a foreign country, I also realize that, for many people, giving a speech or presentation in another language is not an option. In such cases, you might have to work with an interpreter.
Speaking through interpreters
Speaking through an interpreter is a special type of public speaking. Interpretation adds a new dimension to the experience. There are some fundamental rules when it comes to working with interpreters. If you are going to make the most of the experience (for you and the audience), it is essential that you understand those rules. First, let's be clear about terms. People often use "interpreter" and "translator" interchangeably.
Professionals in these fields, however, will be quick to correct you. In essence, an interpreter interprets or translates words that are being spoken by conveying the idea orally in another language. A translator interprets or translates words that are written by writing them in another language.
It's also important to understand the difference between consecutive and simultaneous interpretation. In consecutive interpretation, the speaker says a sentence or two in the source language and then stops. The interpreter, who is usually next to the speaker, conveys the meaning of what the speaker just said (though not necessarily the exact words) in the target language. Thus, the talk is broken up into chunks. For examples of consecutive interpretation, watch a couple of minutes from this video (English – Turkish) or this one (Russian – French – Arabic).
In simultaneous interpretation, the interpreter is sitting in a booth with headphones and a microphone. He hears the source language in his headphones and conveys the message in the target language through the microphone, which feeds into the earpieces that the members of the audience have. All things being equal, simultaneous interpretation results in a more fluid experience for the audience. The interpreters with whom I have worked prefer it to consecutive translation.
Set out below are my tips for working with interpreters in a simultaneous interpretation situation. (I focus on simultaneous interpretation because it is the most common, especially for large meetings, and the form with which I have had most experience.)
Before the Event
1. Choose good interpreters
It might sound obvious, but it is vital. Most of the interpreters with whom I have worked have been outstanding. However, I have also worked with some who were not that great. The difference is huge. Poor interpretation is a killer for your message. You might not have a say in the matter, but if you do, ask around and get feedback from people who have worked with the interpreters before.
Ideally, you should meet with the interpreters beforehand to discuss the topic of your presentation, the audience, etc. The following are key qualities that good interpreters possess: (a) an extensive vocabulary in the source and target languages; (b) familiarity with the different cultures involved; (c) familiarity with the subject matter (important if the subject is highly technical); and (d) a significant amount of experience.
Sonja Willner, a reader who is an interpreter, offers some additional insight on this issue. Please see her comment below.
2. Choose a good technician
Interpreters are important but so is the technician who sets up the interpretation booth, connects the wiring, monitors the sound, etc. There are companies that provide a complete interpretation service; i.e., they have the technical equipment and will contract the individual interpreters. Make sure that the technician remains at the venue in case problems arise.
3. Send the interpreters documentation before the event
Here, I am thinking of things such as a glossary of technical terms you will use, copies of materials that you will reference, copies of slides that you will show, etc. If you have a transcript or outline of your talk, send it. A good interpreter will want to be prepared and familiar with the material. Confidentiality agreements are standard when signing a contract with an interpreter or interpretation service, so sending the material should not be a problem.
4. Factor in additional time for your talk
Because you will be speaking more slowly than usual (see below) and because technical issues can arise (see above), you should budget your allotted time accordingly. (NB – In the case of consecutive interpretation, you basically have to cut your material in half; i.e., if you have one hour of presentation time, you cannot prepare more than 30 minutes of material because everything has to be said twice: the source language followed by the target language.)
During the Event
1. Bring two sets of materials for the interpreters
Sometimes they will not have the documents that you sent; sometimes a different interpreter will show up as a last-minute replacement in the case of an emergency. You want to make sure that they have what they need. (NB: Interpreters typically work in pairs. One will interpret for a period of time (15-20 minutes or so) and then take a break while the other one takes over.)
2. Speak slowly and enunciate
Even professionals need time to digest what you are saying and then come up with the proper words to express the thought in the target language. If you speak quickly, many of your ideas might get missed. Good interpreters, however, will ask the audience (through their earpieces) to tell you to slow down. And although you need not have perfect elocution, you should pronounce your words clearly.
3. Avoid colloquialisms
English is a language with a vast and rich store of colloquialisms. However, even excellent interpreters can miss the subtleties of the language, especially if English is not their mother tongue (as it often will not be). Use simple words and skip the idioms.
4. Use humour carefully
Many people caution against using humour when working with interpreters. I disagree. Humour is a wonderful way to bridge the cultural gap—provided that it is appropriate and culturally sensitive. I would avoid jokes, but anecdotal humour—for example, a funny experience that you had in the host country—can be a wonderful way to build rapport with the audience.
5. Connect with the interpreters from time to time
Usually, you can see the interpreters at the back of the room in their booth. I tell the interpreters with whom I work that if I make eye contact with them, they should give me a quick signal (agreed beforehand) to let me know whether everything is OK, whether I should slow down, whether I should speak louder, etc.
6. Always thank the interpreters
When you wrap up your presentation, it is proper form and basic politeness to thank the interpreters publicly. They work hard and their work is mentally exhausting. A sincere word of thanks will be much appreciated.
Working with interpreters takes extra effort, but it is worth it. They are your partners in getting your message across to the audience. If you follow the tips above and go into the event with the right attitude, the experience can be rewarding on many levels. And, most importantly, your message won't be lost in translation.