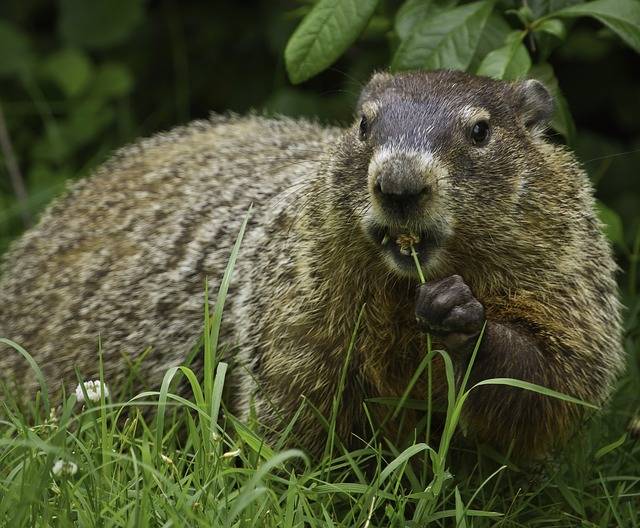 For those of you unfamiliar with Groundhog Day, it is a quirky little celebration observed in Canada and the United States on the 2nd of February.
According to legend, if the groundhog, such as the one in the picture above, wakes up and does not see his shadow, spring will come early that year. However, if the groundhog sees his shadow, he will go back into his burrow and we will have six more weeks of winter.
Groundhog Day also happens to be one of my favourite movies.

Bill Murray plays a disgruntled TV weatherman. He goes with a crew to Punxsutawney, Pennsylvania to cover the Groundhog Day event. A snowstorm moves in and the crew must spend a second night in Punxsutawney. When Murray wakes up the "next" day, it is Groundhog Day all over again. He continues to relive the same day over and over and only he knows it. It's a very clever film.
Now, although Murray relives the same day over and over, the days do not unfold exactly the same way. In fact, Murray can learn something one day and then use it to his advantage the next. This is particularly useful in helping him learn about, and win the affection of, his colleague who is played by Andie Macdowell.
So what does this have to do with public speaking? Well, if you have to give the same presentation multiple times, you can (and should) learn from each experience and make the appropriate adjustments for the next time. I give the same advice to young speakers when they join Toastmasters.
There is no rule that says you cannot give the same speech twice. I always recommend that they give a speech, get feedback and then give the speech again after incorporating the feedback. The learning and growth are tremendous.
If you give the same presentation several times, pay attention to what happens and get feedback from your audience members on how you can improve the next time around. If you do, you will.
By the way, bad news for those of you who were hoping for an early spring. Apparently the groundhog has just seen his shadow as I write. Six more weeks of winter (2014) coming up!