Imagine walking out your front door and there, right in front of you, is a giraffe. A living and breathing giraffe just standing there and looking straight at you.
Your first questions will not be about the physiology of the giraffe, or the biological classification of the giraffe, or the dietary habits of the giraffe. You first thoughts will not be to wonder how tall the giraffe is, or how many spots it has, or how long it takes a giraffe to swallow food or water. (Apparently, swallowing water is a complicated process!)
Your first questions will be different. Why is there is a giraffe outside my home? How did this giraffe get here? Am I in danger?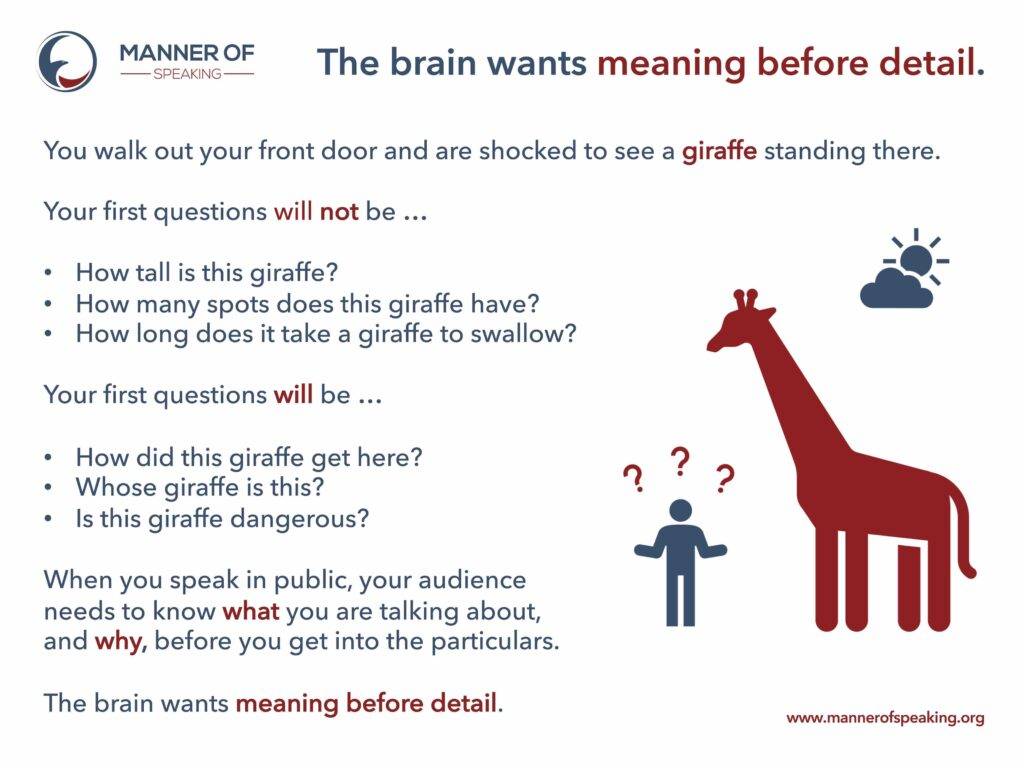 The brain wants meaning before detail
It is, perhaps, a humorous example, but it stand for an important principle for public speakers. The human brain wants meaning before detail.
This concept has been discussed by developmental molecular biologist John Medina, among others. I need to understand what you are talking about and why I should care before you give me all of the details of the who, where, when, how, etc.
Yet, when it comes to presentations, too many speakers jump straight into the details – and keep layering on more details – without first laying the foundation with what they will be talking about and why it is important for the audience.
The process need not be complicated. Immediately after hooking your audience's attention, simply tell them where you are going with the speech or presentation. In the public speaking business, call this signposting. Some examples:
There are three reasons why we should open an office in Singapore: a favourable tax structure; proximity to our Asian clients; and a skilled workforce.
Today, I want to share with you four benefits of a daily, 30-minute walk.
We need to develop new business. Today I want to talk about an area where I think we can do just that.
In each of the examples above, the audience will quickly understand the purpose of the presentation. The speaker can thus safely proceed to the details.
By the way, giraffes are seriously cool animals.