Bishop Michael Curry has certainly made a name for himself.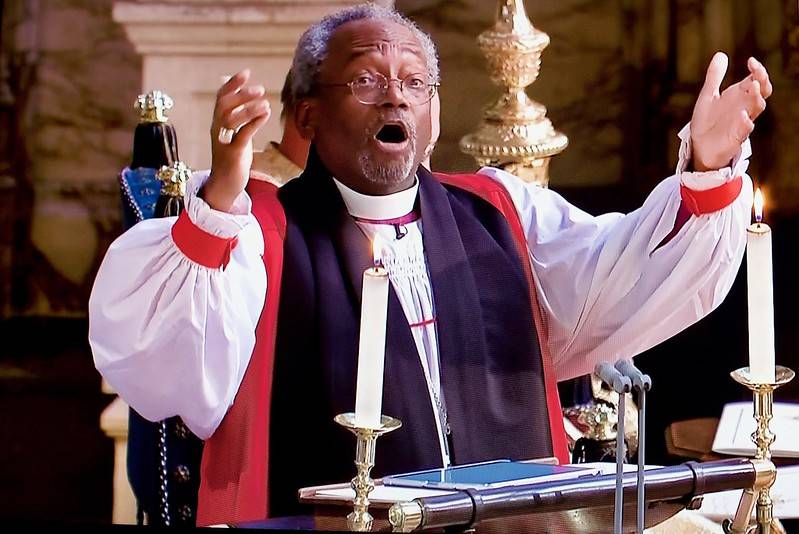 I hadn't planned on watching the wedding of Prince Harry and Meghan Markle, but during a break from work, I decided to skim the news. And there it was: a link to the live stream of the event. "I'll just take a quick look," I thought.
Well, it so happened that I started the stream just as Meghan's car was pulling up to St. George's Chapel at Windsor Castle. Long story short, my wife and I didn't stop watching until 90 minutes or so later when Harry and Meghan were husband and wife and hopping into a carriage.
It was a nice (and highly unconventional) service for a variety of reasons that you can read in one of the thousands of articles written about the event. (The Kingdom Choir's rendition of Stand By Me was a highlight.)
But the part of the ceremony that particularly caught my attention—and the attention of millions around the world—was the sermon of Bishop Michael Curry.
The 65-year-old preacher from Chicago and the first black presiding Bishop of the Episcopal Church delivered an electrifying sermon, the likes of which no Royal Wedding had ever seen before. You can watch the entire speech in the video below.
What I liked
I loved his passion for his message. You could tell he was right into it. To take just one example, at 1:44: "There's a certain sense in which when you are loved, and you know it, when someone cares for you and you know it. When you love and you show it. It actually feels right. There's something right about it."
He was authentic. It would have been easy to give a restrained homily given the occasion, given that he was in England and given that the Royal Family was present. But Curry remained true to himself. By several accounts—and by looking at some of the reactions in the video—not everyone was comfortable with his style. But good on Curry for not trying to be someone he isn't.
I liked the quote from Martin Luther King Jr. at 0:34, particularly because it is not one of the better known quotes from that great man.
Bishop Curry varied the rhythm of his speech, sometimes going fast and sometimes slowing right down with long pauses. He varied the volume of his voice, sometimes rising to a crescendo and sometimes coming down to a whisper.
He used humour:

"Two young people fell in love, and we all showed up." (3:45)

"Jesus did not get an honorary doctorate for dying." (6:40)

"And with this I will sit down. We got to get y'all married." (10:00)

"Fire makes it possible for us to text and tweet and email and Instagram and Facebook and socially be dysfunctional with each other." (12:00)
Bishop Curry used a number of powerful rhetorical devices in his speech:
Anaphora – "Fire made it possible to cook food and to provide sanitary ways of eating, which reduced the spread of disease in its time. Fire made it possible to heat warm environments and thereby made human migration around the world a possibility, even into colder climates. Fire made it possible, there was no Bronze Age without fire, no Iron Age without fire, no Industrial Revolution without fire." (10:48)
Symploce – "Think and imagine a world where love is the way. Imagine our homes and families when love is the way. Imagine neighborhoods and communities where love is the way. Imagine governments and nations where love is the way. Imagine business and commerce when love is the way. Imagine this tired old world when love is the way." (7:38)
Asyndeton – "My brothers and sisters, that's a new heaven, a new earth, a new world, a new human family." (9:38)
Metaphor – Fire was the metaphor that ran throughout the sermon. It was summed up in Curry's paraphrasing of Pierre Teilhard de Chardin at 12:20: "[I]f humanity ever harnesses the energy of fire again, if humanity ever captures the energy of love, it will be the second time in history that we have discovered fire.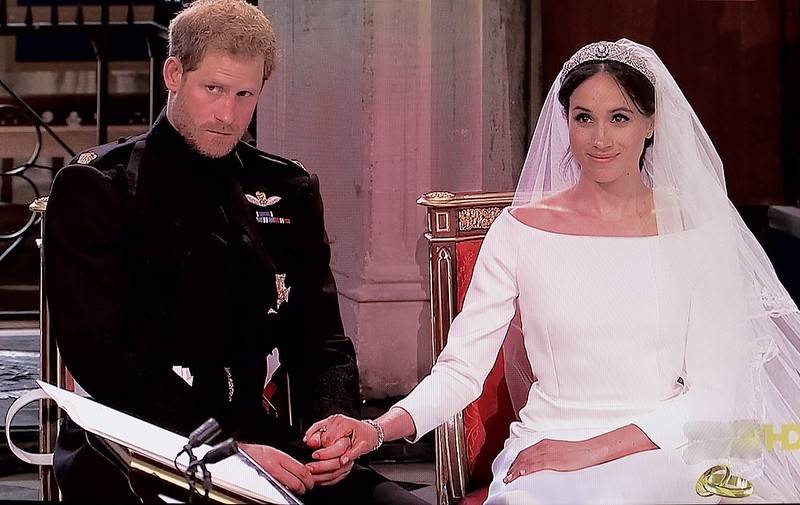 Suggestions
The speech went on too long. Bishop M

ichael Curry himself recognized at 10:00 that he needed to wind up so that the ceremony could proceed, but then talked for almost four more minutes. Shorter is better and the speech could have been trimmed without diminishing its effectiveness. Indeed, a shorter speech could well have been more effective. Just think of Abraham Lincoln's Gettysburg Address.
Update:

After this post was published, I read that Curry said, "It was planned and I thought it was going to be six minutes." If the timing was planned, it is almost a certainty that everyone involved in the organization of the wedding would have known and would have expected a six-minute sermon in order to keep to schedule. It is not good public speaking etiquette to go over your allotted time, especially when you are just one part of a larger event.
I didn't like the rhetorical question at 11:32 in which he asked whether anyone came to the service in a car. Of course they did. He could have shortened that whole section by saying something like, "Many of you came here by car today; I flew to England from the United States in a plane. Without that controlled, harnessed fire, many of us wouldn't have been able to be here."
I don't like it when a speaker tells the audience to nod your heads (11:37) or repeat a phrase. That style has never sat well with me. I'll go as far as asking audience members to raise their hands if I am trying to gauge, for example, how many people are familiar with a concept. But that's about it.
While I appreciated that Curry's message of love was for everyone present (and the millions watching on TV or the Internet), it would have been nice for him to mention Harry and Meghan by name, at least once. After all, it was their day.
All in all, I was impressed by Bishop Curry. Harry and Meghan seemed impressed too. At the very end of the video (13:30), Harry turns to Meghan and says, "Wow!"
Photos courtesy of Tone'o (Anthony Mason) on Flickr